4 Healthcare Stock Stories to Begin a Week of Investment Wellness
Merck & Co. (NYSE:MRK): Closing price $46.76
Merck shares moved down Monday after being downgraded by analyst Tim Anderson at Bernstein, who lowered the stock from Outperform to Market Perform, pointing to the pressure of generic competition on the firm's future as it struggles to transition its drug pipeline into FDA approvals. The shares closed down 1.14 percent Monday at $46.75.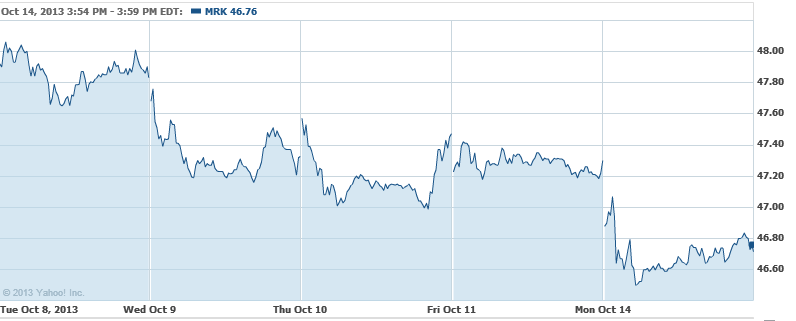 Teva Pharmaceutical Industries Ltd. (NYSE: TEVA): Closing price $40.39
Teva said Monday that the FDA has given the nod to the generic equivalent to Tobi (Tobramycin Inhalation Solution USP) in the United States. Through an agreement with Novartis on this product, Teva expects it to launch in late November. Marketed by Novartis, Tobi saw annual sales of about $350 million in the United States, according to IMS data as of June 30.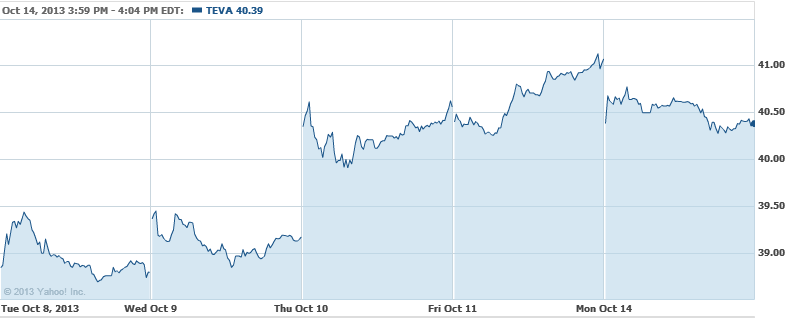 Acorda Therapeutics Inc. (NASDAQ:ACOR): Closing price $32.60
On Monday, Acorda reported data from a Phase 2 proof-of-concept evaluation of dalfampridine extended release tablets, 10 mg (dalfampridine-ER) in persons with post-stroke deficits. In the study, treatment with dalfampridine-ER was well-tolerated, and improved walking, as measured by the Timed 25-Foot Walk test. The data were presented at the American Neurological Association 2013 Annual Meeting, in New Orleans. Top-line data from this study were disclosed by Acorda in April of this year.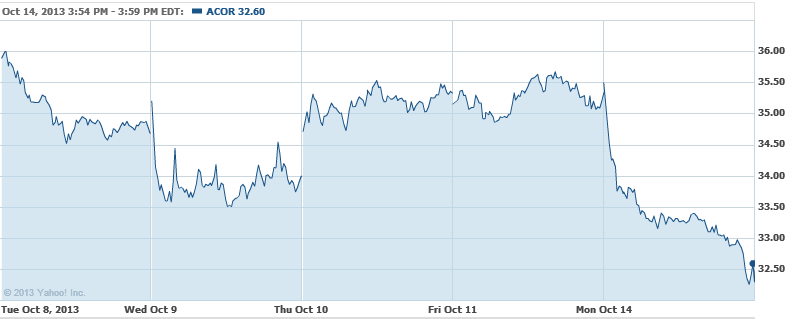 Myriad Genetics Inc. (NASDAQ:MYGN): Closing price $23.90
Myriad said Monday that results from a verification study indicated that the Myriad myPath Melanoma test effectively differentiated malignant melanoma from benign skin lesions. The clinically-actionable information supplied by myPath Melanoma will provid healthcare providers with objective data and improve the diagnosis of patients with melanoma. Myriad presented these data at the American Society of Dermatopathology Annual Meeting on Sunday.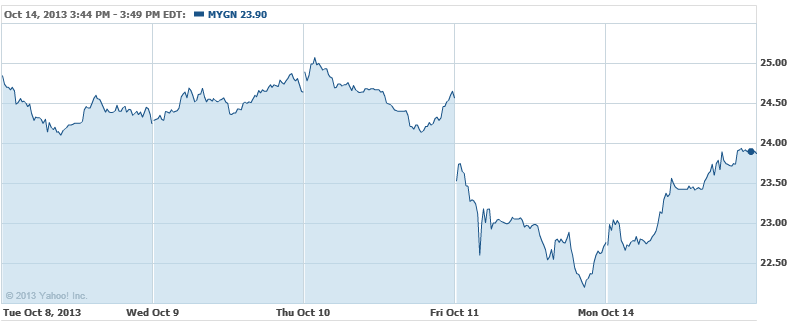 Don't Miss: Is it Time for Markets to Eye the Political Squabble?