4 Healthcare Stock Stories To Close Out the Week
Dendreon Corporation (NASDAQ:DNDN): Closing price $3.99
Of Friday, Dendreon reported that four abstracts featuring Provenge (sipuleucel-T) data from ongoing Phase II sequencing studies and the PROCEED registry,and two abstracts highlighting preliminary Phase II data of DN24-02, which is an investigational active cellular immunotherapy in patients suffering from surgically resected HER2+ urothelial cancer, will be presented at the 49th Annual Meeting of the American Society of Clinical Oncology from May 31st through June 4th in Chicago.
Are these stocks a buy or sell? Let us help you decide.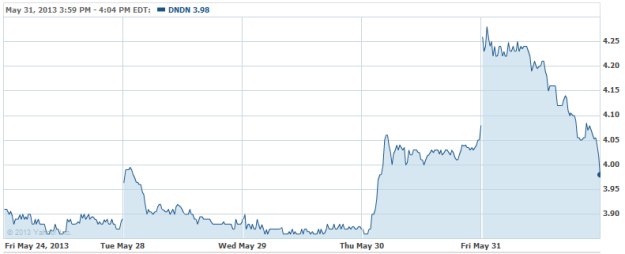 Exelixis (NASDAQ:EXEL): Closing price $4.84
Exelixis said Friday that it has begun its phase 3 pivotal trial METEOR, which compares cabozantinib to everolimus in patients with metastatic renal cell carcinoma (mRCC), who have experienced disease progression subsequent to treatment with a minimum of one prior VEGFR tyrosine kinase inhibitor. The primary endpoint for the trial is progression-free survival.
Are these stocks a buy or sell? Let us help you decide.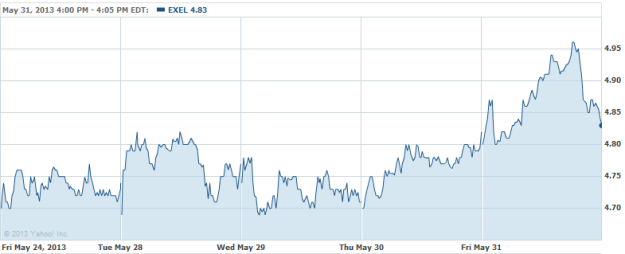 Vanda Pharmaceuticals (NASDAQ:VNDA): Closing price $
Vanda has announced the submission of a new drug application to the FDA for tasimelteon, a circadian regulator. Vanda is requesting FDA approval of tasimelteon for the treatment of Non-24-Hour Disorder (Non-24) in the totally blind. Tasimelteon was created to meet a significant unmet medical need, namely the treatment of Non-24, for which there are currently no FDA approved products. Non-24 is a serious and rare, circadian rhythm disorder that impacts the majority of totally blind individuals who lack light perception and who cannot entrain (synchronize) their master body clock to the 24-hour day.
Are these stocks a buy or sell? Let us help you decide.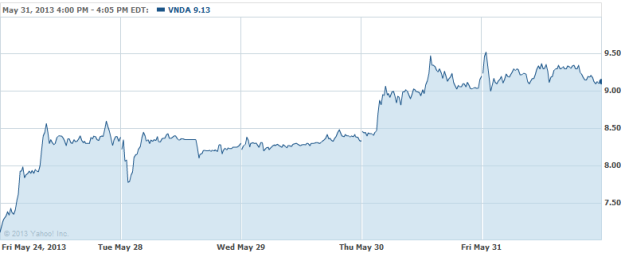 Omeros Corporation (NASDAQ:OMER): Closing price $
On Friday, Omeros announced positive results from its Phase 1 clinical program evaluating OMS824, which is the lead compound from its phosphodiesterase 10 (PDE10) program. This evaluation measured the extent to which OMS824 ties to PDE10 in the basal ganglia, a region of the brain that has been connected to a wide range of diseases that affect cognition. The results indicate that the selected dose of OMS824 achieved roughly 50 percent occupancy of PDE10 without triggering the extrapyramidal symptoms (loss of muscle control, e.g., muscle rigidity, tremors, or involuntary muscle movements) reported as side effects with other PDE10 inhibitors that achieved like or significantly lower occupancy levels. OMS824 is Omeros' proprietary compound that selectively inhibits PDE10, and Omeros intends to advance into Phase 2 clinical trials in Huntington's disease and schizophrenia later in 2013.
Are these stocks a buy or sell? Let us help you decide.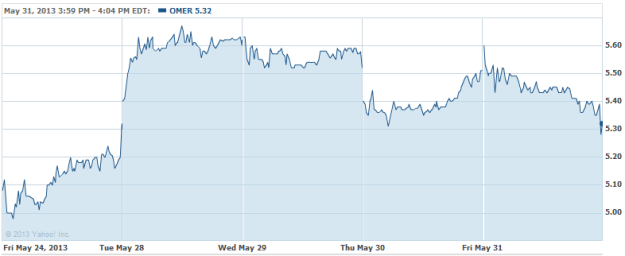 Don't Miss: Obamacare Naysayers Take Heed: This Provision Is a Success.