4 Healthcare Stock Stories To Cure Thursday's Investment Ills
Eli Lilly and Co. (NYSE:LLY): Closing price $52.46
Eli Lilly and Co. said that it remains "deeply concerned" over allegations published in a Chinese newspaper that it spent in excess of $4.90 million to bribe doctors in China to prescribe the company's medicines, rather than rival products. A former senior manager for Lilly, identified by the pseudonym Wang Wei, told the 21st Century Business Herald that bribery and illegal payments at Eli Lilly's China operations were rampant, as reported by the paper on Thursday. Eli Lilly is the third overseas drugmaker to face whistleblower allegations in the newspaper in August, and the reports are coincident with several Chinese investigations into the pharmaceutical sector, covering alleged corruption to drug pricing.
Are these stocks a buy or sell? Let us help you decide.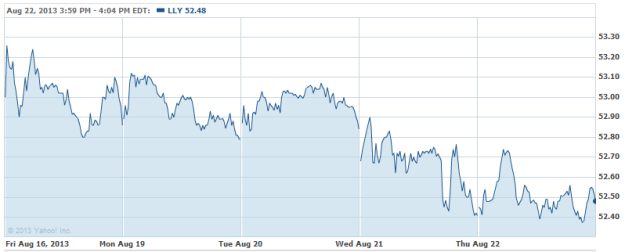 Navidea Biopharmaceuticals, Inc. (AMEX:NAVB): Closing price $2.96
On Thursday, Navidea announced that it has made an agreement with the FDA for two special protocol assessments for its pivotal Phase 3 program with NAV5001 as an aid in the differential diagnosis of Parkinsonian Syndromes from non-Parkinsonian tremor. NAV5001 is an investigational imaging agent employed to visualize dopamine transporters in the brain by the use of single photon emission tomography imaging. The SPAs are written accords between Navidea, as the programs sponsor, and the FDA over the design, endpoints and statistical analysis for the two pivotal Phase 3 clinical trials to be used in support of a potential NAV5001 New Drug Application. The firm is actively getting ready for the beginning of the pivotal Phase 3 trials later in 2013. Navidea is a biopharmaceutical firm focused on precision diagnostic radiopharmaceuticals.
Are these stocks a buy or sell? Let us help you decide.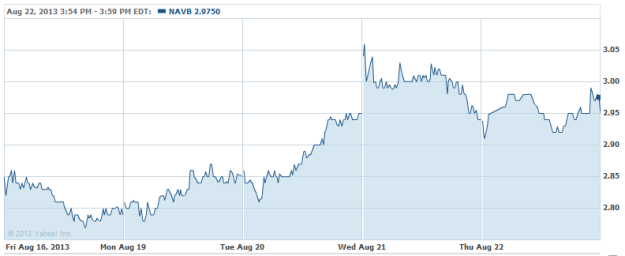 Dr. Reddy's Laboratories Ltd. (NYSE:RDY): Closing price $32.81
Dr. Reddy's said Thursday that it has introduced Divalproex Sodium Extended-Release Tablets, USP (250 mg and 500 mg), which is a therapeutic equivalent generic version of Depakote ER (divalproex sodium) Tablet, Extended Release in the United States market on August 19. Dr. Reddy's ANDA for Divalproex Sodium Extended-Release Tablets, USP was okayed by the FDA. The Depakote ER brand and generic had combined domestic sales of roughly $194 Million MAT for the most recent twelve months ending in June 2013, according to IMS Health.
Are these stocks a buy or sell? Let us help you decide.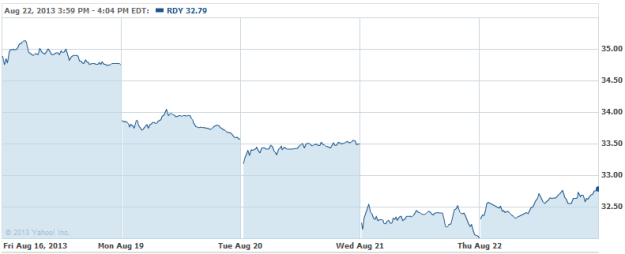 OncoMed Pharmaceuticals (NASDAQ:OMED): Closing price $16.65
OncoMed said Thursday that the United States Patent and Trademark Office has issued U.S. Patent No. 8,507,442 to OncoMed for methods of treating cancer with its antibody vantictumab (OMP-18R5). Vantictumab targets and inhibits the Wnt pathway, which is thought to be an important CSC pathway. The patent will expire in 2029. OncoMed is a clinical-stage firm developing novel therapeutics that target cancer stem cells, or tumor-initiating cells.
Are these stocks a buy or sell? Let us help you decide.