4 Healthcare Stock Stories to Help With Investment Wellness
GlaxoSmithKline (NYSE:GSK): Closing price $52.10
The United Kingdom drug major has reported disappointing top-line data from a phase III study on its chronic coronary heart disease candidate, darapladib. The randomized, placebo-controlled, double-blind, parallel group, multi-centre, event-driven STABILITY study (stabilization of Atherosclerotic plaque By Initiation of darapladib therapy) represents the first of two phase III studies on darapladib. The stability study, which enrolled over 15,000 patients, examined the use of darapladib in combination with current standard of care (statin, aspirin, and blood pressure treatments) versus placebo plus standard of care.

Sanofi (NYSE:SNY): Closing price $53.02
Late Wednesday, a federal advisory panel recommended the approval of Sanofi SA's experimental multiple sclerosis drug Lemtrada, but said that the drug should be reserved for patients who have failed all other therapies. In a unexpected decision, an DFA advisory panel voted 14 to 0, with one abstention, that the drug should be okayed regardless of its potential to cause cancer and other serious conditions.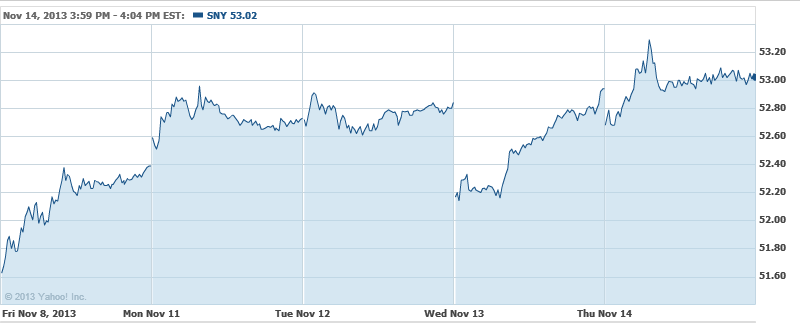 Stemline Therapeutics Inc. (NASDAQ:STML): Closing price $24.55
On Thursday, Stemline announced five presentations at the 2013 American Society of Hematology Annual Meeting and Exposition, to be held December 7 through 10, at the Ernest N. Morial Convention Center in New Orleans. Investigators will present a clinical update of SL-401, which is a novel targeted therapy directed to tumor bulk and cancer stem cells in patients suffering from blastic plasmacytoid dendritic cell neoplasm, along with preclinical data of SL-401 in additional indications including multiple myeloma and chronic eosinophilic leukemia, a rare hematologic cancer.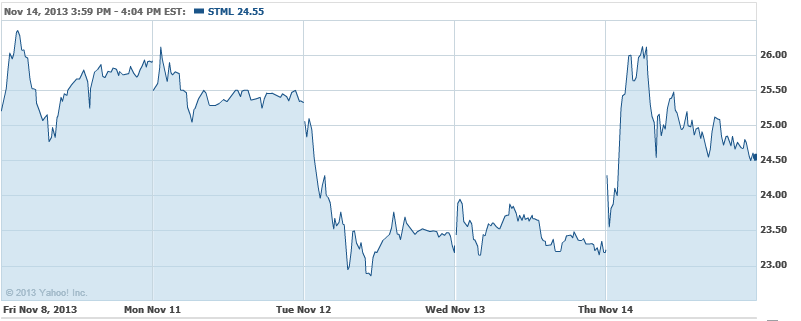 ACADIA Pharmaceuticals Inc. (NASDAQ:ACAD): Closing price $22.94
ACADIA announced that it has begun a Phase II feasibility trial designed to explore the efficacy and safety of pimavanserin as a treatment for patients who have Alzheimer's disease psychosis. Currently, no drug is cleared in the United States to treat ADP, and the off-label use of current antipsychotics is connected with increased mortality, serious adverse events, and cognitive decline in elderly patients with dementia-relatedpsychosis. ACADIA is a biopharmaceutical firm centered upon innovative treatments that address unmet medical needs in neurological and related central nervous system disorders.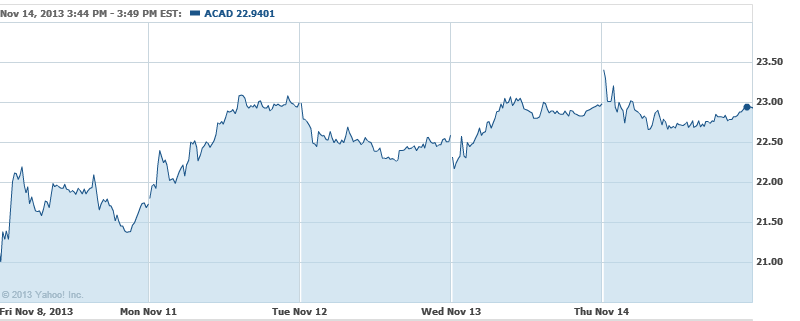 Investing Insights: Is Johnson & Johnson a Buy at These Prices?