4 Healthcare Stock Stories to Kick Off the Week
Cellgene Corporation (NASDAQ:CELG): Closing price $100.02
Celgene said Friday that its Pomalyst brand therapy (pomalidomide) for patients suffering from multiple myeloma who have received a minimum of two prior therapies that included lenalidomide and bortezomib, and have demonstrated disease progression on or within 60 days of completion of the last therapy, has been approved by the FDA.

WellPoint (NYSE:WLP): Closing price $66.27
IBM and the health insurer WellPoint are collaborating over the former's Watson computer, which is working as a virtual assistant to cancer doctors, meanwhile converting the high-powered machine into a revenue generator for IBM in its target of bringing $16 billion from business analytics by 2015. At an event in New York, IBM reported that Watson will answer medical questions from doctors, researchers, medical centers, and insurance carriers. IBM General Manager, Watson Solutions, Manoj Saxena said that "This is a major milestone in IBM's commercialization of Watson. We have significant plans this year for scaling Watson."
Are these stocks a buy or sell? Let us help you decide. Check out our Stock Picker Newsletter now.
Pfizer (NYSE:PFE): Current price $26.86
Pfizer wants to eliminate more than $1 billion for its budget, as it confirmed plans to exit a clinical research operation in Singapore, which implies that even research in the rapidly-growing Asia-Pacific region is not safe from cutbacks.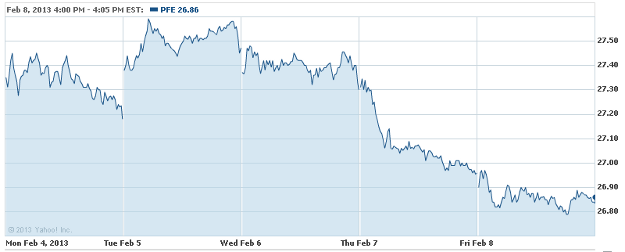 Accuray Incorporated (NASDAQ:ARAY): Closing price $4.39
The firm announced on Friday the pricing of its offering of $100 million aggregate principal amount of 3.5 percent convertible senior notes due 2018. The notes are being offered and sold to qualified institutional buyers through Rule 144A, under the Securities Act of 1933, as amended. The sale should close on February 13th. Additionally, Accuray has granted an option to the initial purchasers of the notes to buy up to an additional $15 million aggregate principal amount of notes.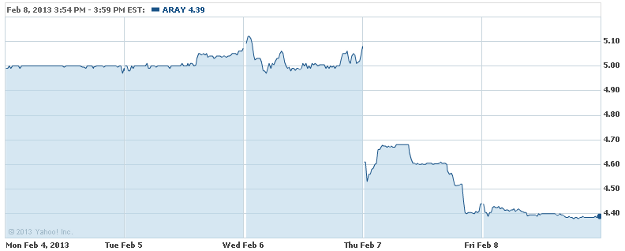 Don't Miss: Medgenics Stumbles and Tranzyme Looks for Options: Healthcare Recap.