4 Healthcare Stock Stories to Promote Investment Wellness for Monday
CVS Caremark Corp. (NYSE:CVS): Closing price $58.20
On Monday, Moody's Investors Service upgraded CVS Caremark Corporation's senior unsecured rating from Baa2 to Baa1. Concurrently, CVS  Caremark's Commercial Paper rating was affirmed at Prime-2 with the rating outlook as stable. The upgrade reflects Moody's belief that CVS Caremark's solid growth in operating income and recent improvement in operating margin is sustainable and also that the trend will continue.
Senior Credit Officer Maggie Taylor at Moody's commented that, "CVS Caremark's earnings will continue to benefit from numerous positive industry trends including; the solid growth in specialty  pharmacy, increasing generic utilization rates, further branded  drugs coming off patent, and the high growth in the United States population over the age of 65."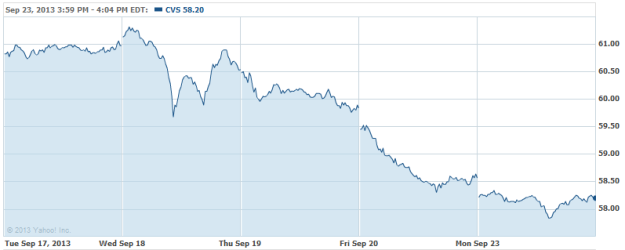 Teva Pharmaceutical Industries Ltd. (NYSE:TEVA): Closing price $38.01
The United States District Court for the District of New Jersey has released a favorable ruling in Teva's patent infringement lawsuit against Mylan concerning an Azilect (rasagiline tablets) patent, which covers methods of treating Parkinsons disease. The Court upheld Monday the validity of Teva's patent, and the company anticipates that the Court will enter judgment that disallows Mylan from launching its generic version of Azilect until Teva's patent expires in 2017. The latter filed the lawsuit suit against Mylan in October 2010.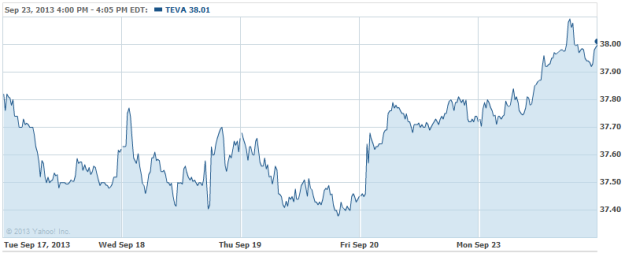 AbbVie Inc. (NYSE:ABBV): Closing price $47.10
Ablynx and AbbVie said Monday that they have reached a global license agreement through which to develop and commercialize the anti-IL-6R Nanobody, ALX-0061, to treat inflammatory diseases. ALX-0061 is Ablynx's proprietary anti-IL-6R Nanobody which successfully completed a Phase IIa evaluation in February 2013, reporting strong efficacy and safety data in patients having moderately to severely active rheumatoid arthritis on a stable background of methotrexate. Through the terms, Ablynx will be responsible for finishing Phase II clinical development in both RA and systemic lupus erythematosus.
Upon the achievement of pre-defined success criteria, AbbVie will exercise its option to in-license ALX-0061 and be responsible for subsequent Phase III clinical development and commercialization. Ablynx will receive an upfront payment of $175 million, which will partly be used to pay for the next phases of clinical development of ALX-0061.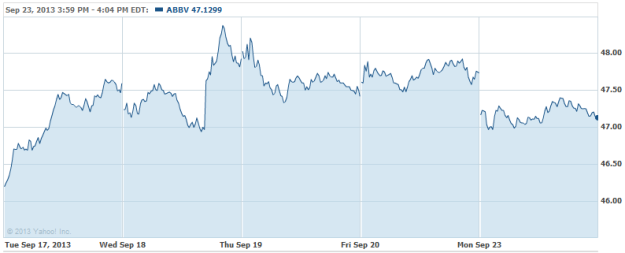 Alnylam Pharmaceuticals, Inc. (NASDAQ:ALNY): Closing price $63.05
The RNAi therapeutics firm announced Monday positive interim results from its Phase I clinical trial of ALN-TTRsc, which is a subcutaneously delivered RNAi therapeutic targeting the transthyretin gene for the treatment of TTR-mediated amyloidosis. The data are being presented at the Heart Failure Society of America 17th Annual Scientific Meeting being held September 22 through 25 in Orlando. Results indicate that ALN-TTRsc administration led to robust, consistent, and statistically significant knockdown of serum TTR protein levels as much as 94 percent.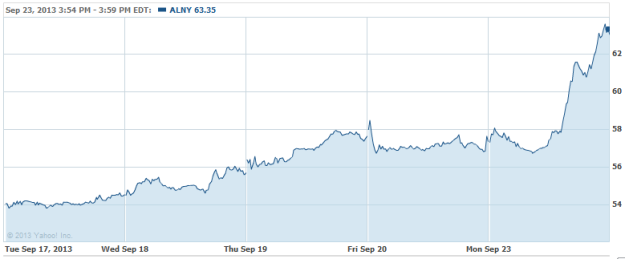 Don't Miss: American Working-Age Poverty Is Near Record High.