4 Healthcare Stock Stories to Start a Week of Investment Wellness
Sanofi-Aventis (NYSE:SNY): Closing price $50.54
In a Bloomberg Television interview Monday at the Asia-Pacific Economic Cooperation meeting in Bali, Chief Executive Chris Viehbacher said that the French drug maker will return to earnings growth in the fourth quarter following the loss of patent protection on nine drugs in the past three years which cut into profit. Viehbacher observed that, "We've just come through the deepest and most concentrated patent cliffs in the industry. Our view is that particularly in the fourth quarter, the company returns to growth for the next period."

Myriad Genetics Inc. (NASDAQ:MYGN): Closing price $24.75
On Monday, Myriad announced new clinical data from a study with myRisk Hereditary Cancer, a 25-gene hereditary cancer panel, that indicated a 60-percent increase in mutations detected in cancer predisposition genes in patients having a prior history of colon cancer and or polyps. Myriad is presenting this clinical study and data from four other studies this week at the Collaborative Group of the Americas on Inherited Colorectal Cancer Annual Meeting in Aaheim.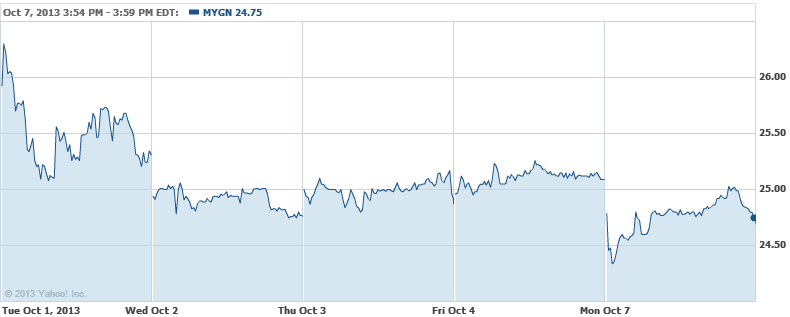 Ampio Pharmaceuticals Inc. (AMEX:AMPE): Closing price $7.65
Ampio announced interim results Monday from the ongoing 450-patient, dose finding, 505B 2 study of Optina as a treatment for Diabetic Macular Edema. This interim analysis was managed by an independent data review committee comprised of a statistician and an ophthalmologist/retinologist, who were allowed to view the unmasked data from the trial. At least 30 percent of patients had reached the first 4-week time point and their clinical results were considered representative data for the trial.

Cardiome Pharma Corp. (NASDAQ:CRME): Closing price $5.12
On Monday, Cardiome reported the publication of positive data from an observational, retrospective study conducted at the Skåne University Hospital in Malmö, Sweden. The study included 251 recent-onset atrial fibrillation patients who received 355 Brinavess treatments during the period between January 15, 2011 and April 15, 2013. During the observation period, 70 percent of the AF patients treated with Brinavess converted with a median time of 11 minutes. Conversion efficacy was 76 percent in patients with AF duration of less than 10 hours.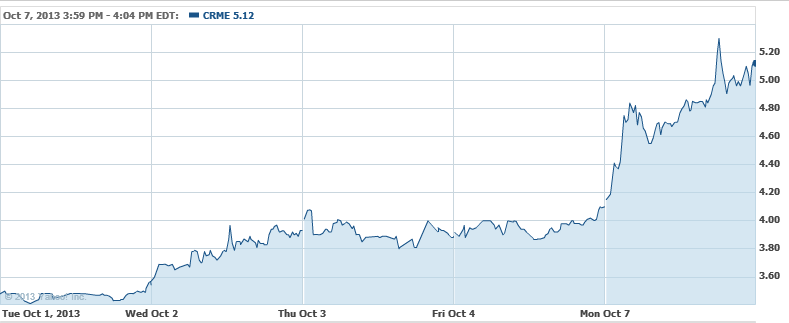 Investing Insights: Can Pfizer Stock Keep Going?