4 Healthcare Stock Stories To Start a Week of Investment Wellness
Eli Lilly and Company (NYSE:LLY): Closing price $53.14
On Monday, Eli Lilly announced results from its PRONOUNCE trial of Alimta (pemetrexed for injection) for treatment of nonsquamous non-small cell lung cancer that was presented at the American Society of Clinical Oncology's annual meeting in Chicago. The trial contrasted an Alimta (pemetrexed), carboplatin doublet regimen to a paclitaxel, carboplatin and bevacizumab triplet regimen. The evaluation did not attain its primary superiority goal of enhanced progression-free survival without grade four adverse events (G4PFS), and no significant difference was observed between the treatment arms for secondary endpoints of progression-free survival, overall survival, overall response rate, and disease control rate.
Are these stocks a buy or sell? Let us help you decide.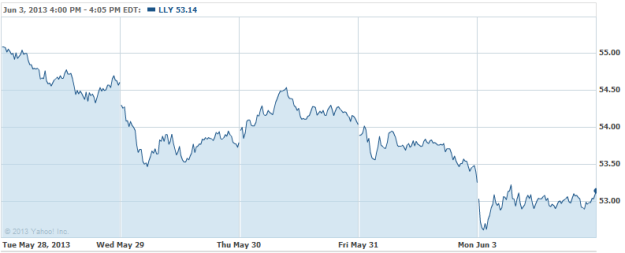 Aeterna Zentaris (NASDAQ: AEZS): Closing price $1.93
The firm announced Monday that final data for the Phase 1 portion of the ongoing Phase 1/2 trial with its lead oncology compound, zoptarelin doxorubicin (AEZS-108), showed the compound's promising anti-tumor activity in heavily pre-treated men with castration- and taxane-resistant prostate cancer. Results were presented earlier Monday by the lead investigator, Jacek Pinski, MD, PhD, of the USC Norris Comprehensive Cancer Center, during a poster session at the American Society of Clinical Oncology's Annual Meeting.
Are these stocks a buy or sell? Let us help you decide.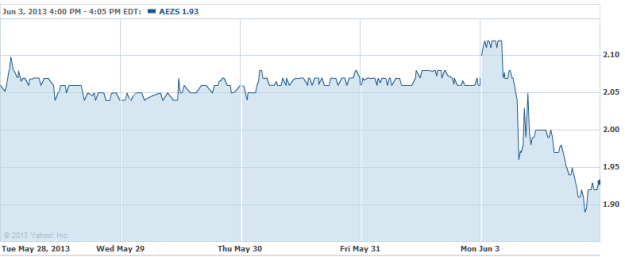 GlaxoSmithKline (NYSE:GSK): Closing price $51.97
The most recent analysis of the controversial GlaxoSmithKline drug shows that the former blockbuster diabetes pill, which was subjected to rigorous safety restrictions in 2010, might not be as risky as was once thought. The FDA is reviewing a new interpretation of the key evaluation of Avandia's heart attack risks, which implies that the drug is as safe as are older diabetes drugs. At an extraordinary meeting this week, the FDA will request that a panel of experts vote on an array of options for the drug, among which include lifting restrictions that restrict which patients can be allowed a prescription. The positive safety review from Duke University researchers is the latest path in a years-long debate over Avandia, which has split medical experts, cost Glaxo billions of dollars, and possibly led to an unknown number of patient heart attacks.
Are these stocks a buy or sell? Let us help you decide.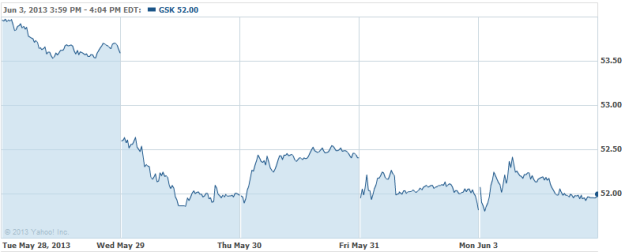 Teva Pharmaceutical Industries (NYSE:TEVA): Closing price $38.50
Teva is now closer to selling its Lonquex drug for the treatment of neutropenia, which is a complication of chemotherapy, following a panel recommending its sale in the European Union. The company said Monday that the Committee for Medicinal Products for Human Use  recommended that a marketing authorization be issued in the EU for Lonquex for the reduction of neutropenia. Teva said that "The CHMP positive opinion opens the way to a final  approval decision from the European Commission expected within the next few months."
Are these stocks a buy or sell? Let us help you decide.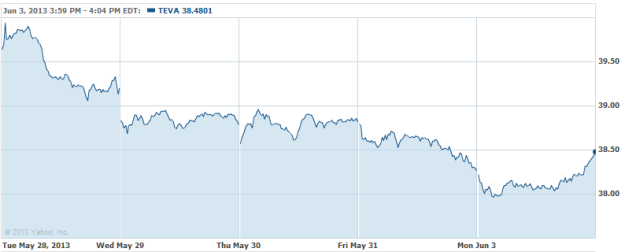 Don't Miss: Will This New Walgreens Concept Succeed in Big Cities?