4 Healthcare Stock Stories to Treat the Monday Blues
Sanofi-Aventis (NYSE:SNY): Current price $47.41
On Monday, Sanofi announced that regulators had okayed its Lyxumia, an injectable diabetes treatment, for sale in Europe. The drug is also known by its generic name, lixisenatide, and is taken once a day along with other drugs or insulin by patients who are otherwise unable to control their blood sugar levels. Lyxumia represents one of the new products the firm is banking on to bring growth back after losing several star performers to generic competition.
Are these stocks a buy or sell? Let us help you decide. Check out our Stock Picker Newsletter now.
United Therapeutics Corporation (NASDAQ:UTHR): Current price $53.57
The firm said Monday that its board has approved the buyback as many as an additional $420 million of its common stock effective on March 4th and the program will remain open for up to one year. Stock purchases can be made in the open market or in privately negotiated transactions periodically as determined by the company's management and in accordance with the requirements of the Securities and Exchange Commission.

The Medicines Company (NASDAQ:MDCO): Current price $30.06
The firm is currently licensing the rights to a strong version of a drug that lowers cholesterol to Alnylam Pharmaceuticals (NASDAQ:ALNY) as it hurries to compete in a very competitive market. The drug is called ALN-PCS and inhibits a protein in the body known as PCSK9. Such meds are expected to be ultimately used to treat millions of persons who do not achieve sufficient cholesterol-lowering from commonly used statins like Lipitor. The Medicines Company will initially pay $25 million and up to $180 million later if certain development and sales goals are attained through the arrangement expected to be formally announced Monday. It will also pay Alnylam double-digit royalties on worldwide sales.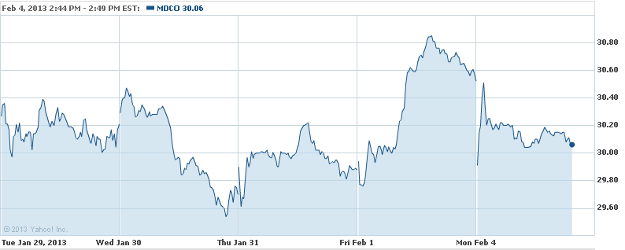 Merck & Co. (NYSE:MRK): Current price $40.98
On Friday, Merck said that it would delay seeking approval for an experimental osteoporosis drug, odanacatib, which in part caused its shares to sink the same day coupled with its fourth quarter earning report that was down a bit year-over-year from 2011. Merck executives explained in a conference call that the delay is because the firm is seeking additional data from a clinical trial. However, they said they were confident in the drug's approval and would submit their application in 2014.
Don't Miss: Does the FTC Think Herbalife Is a Pyramid Scheme Too?