4 Healthcare Stock Stories Waiting for Your Perusal
Amgen Inc. (NASDAQ:AMGN): Closing price $115.56
On Wednesday, Amgen announced results from the Open Label Study of Long TERm Evaluation Against LDL-C (OSLER) trial, its long-term controlled 52-week safety and efficacy study, indicating that monthly treatment with evolocumab (AMG 145), an investigational fully human monoclonal antibody that inhibits PCSK9, a protein that lowers the liver's ability to remove low-density lipoprotein cholesterol, or 'bad' cholesterol, from the blood was not connected with a major increase in adverse events versus standard of care, and produced mean LDL-C reductions of 52 percent in combination with SOC in patients with high cholesterol. These data from the first 52-week study of a PCSK9 inhibitor were presented for the first time in a Clinical Science: Special Reports session at the American Heart Association Scientific Sessions 2013 in Dallas and simultaneously published in Circulation.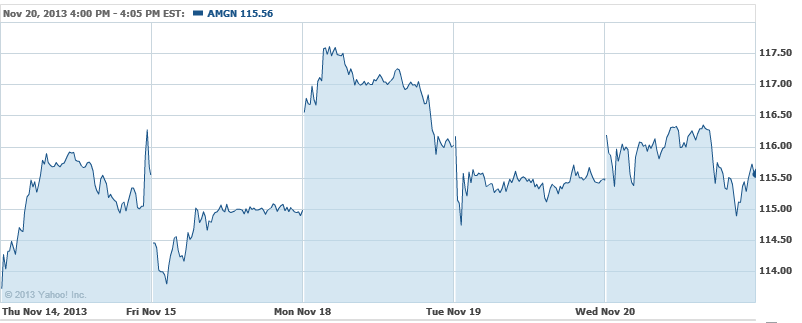 GlaxoSmithKline Plc. (NYSE:GSK): Closing price $52.68
GlaxoSmithKline reported on Wednesday it had finalized the sale of 28.2 million shares in Aspen Pharmacare at 250 rand apiece, raising gross proceeds of 7.059 billion rand, or $694 million. Stocks in the South African drug maker closed at 267.40 rand on Tuesday. Prior to this, Glaxo had said it planned to shrink its investment in the Aspen by one-third, while remaining committed to collaborating with the firm. It now holds a reduced interest at 12.4 percent.

Illumina Inc. (NASDAQ:ILMN): Closing price $92.30
Illumina reported that it received premarket approval from the FDA for its MiSeqDx system, representing the first high-throughput DNA sequencing analyzer to receive FDA clearance. Illumina also obtained FDA premarket clearance for the MiSeqDx Cystic Fibrosis 139-Variant Assay, MiSeqDx Cystic Fibrosis Clinical Sequencing Assay, and MiSeqDx Universal Kit. The MiSeqDx benchtop sequencer avails users the ability to conduct diagnostic or research applications on a single, user-friendly system.

Inovio Pharmaceuticals Inc. (AMEX:INO): Closing price $2.03
Inovio said Wednesday that preclinical testing of a DNA synthetic vaccine for the virulent Middle East Respiratory Syndrome coronavirus-induced robust and durable immune responses, exhibiting the potential for a SynCon DNA vaccine to prevent and treat the deadly virus. Since last year, when the virus was first identified, 153 cases from nine Middle Eastern countries have been reported and 42 percent of these cases have proved fatal.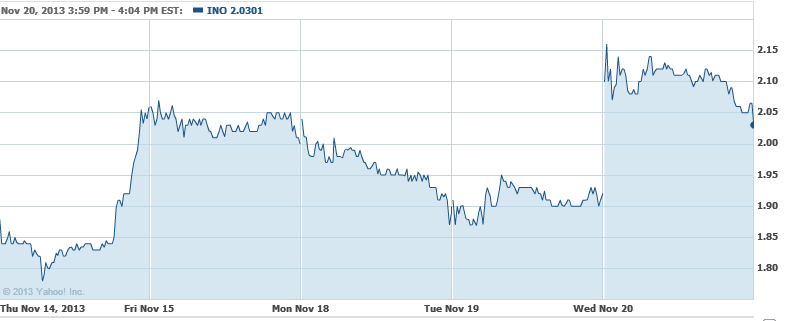 Don't Miss: Here Is How Amazon's Kindle Is Outshining Apple's iPad.