4 Healthcare Stocks for Investors to Check Out
GlaxoSmithKline (NYSE:GSK): Closing price $44.28
On Wednesday, GlaxoSmithKline and Theravance (NASDAQ:THRX) reported the submission of a regulatory application in the European Union for the investigational once-daily LAMA/LABA combination medicine, UMEC/VI, for patients suffering from chronic obstructive pulmonary disease . On December 18th, the firm announced the submission of a regulatory application with the FDA  for UMEC/VI.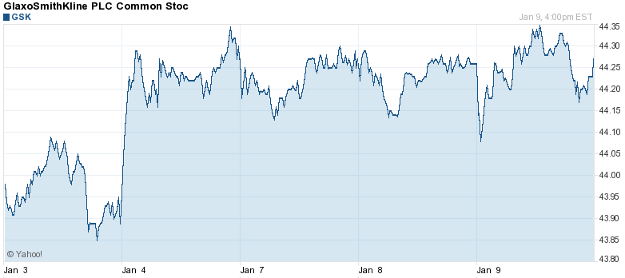 ViroPharma Incorporated (NASDAQ:VPHM): Closing price $25.40
United States District Judge Ellen Segal Huvelle in Washington dismissed ViroPharma's suit against the FDA concerning generic forms of the firm's antibiotic Vancocin, as it company failed to produce new evidence following an April rejection of its request for a court order to disallowFDA approval of three generic versions of the drug. Huvelle said that "ViroPharma all but admits that it has presented no substantially new arguments, but rather relies on additional elaboration, none of which persuades the court to reverse itself." The judge upheld the FDA's rejection of ViroPharma's request for three years of market exclusivity for Vancocin on the basis of a labeling change.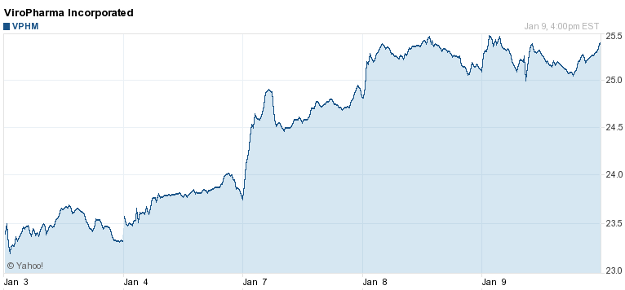 Are these stocks a buy or sell? Let us help you decide. Check out our Wall St. Cheat Sheet Stock Picker Newsletter now >>
Rosetta Genomics (NASDAQ:ROSG): Closing price $5.26
Rosetta reports that data from an evaluation that assessed the differences between cancer of unknown primary and metastatic solid tumors of known primary metastases by profiling microRNA expression, were recently published in Clinical Experimental Metastasis. The study examined microRNA differences between CUP metastases with favorable prognosis and metastases of known primary tumors so as to screen for an aggressive, pro-metastatic, CUP-specific biologic signature. The firm is a top developer and provider of microRNA-based molecular diagnostics.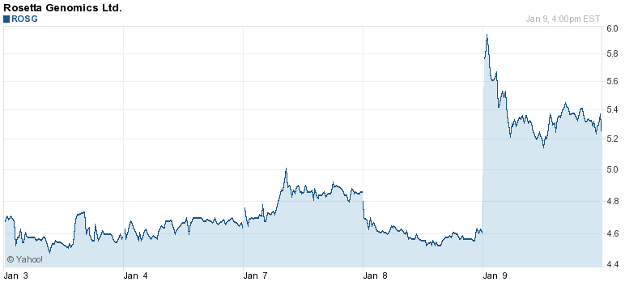 St. Jude Medical (NYSE:STJ): Closing price $37.30
In a letter to the FDA obtained by The Wall Street Journal, St. Jude admitted quality-control flaws in development of its Durata defibrillator leads, and promised a series of improvements. This represents the initial formal response to a citation by the agency, subsequent to an October inspection of a key heart-rhythm device manufacturing facility.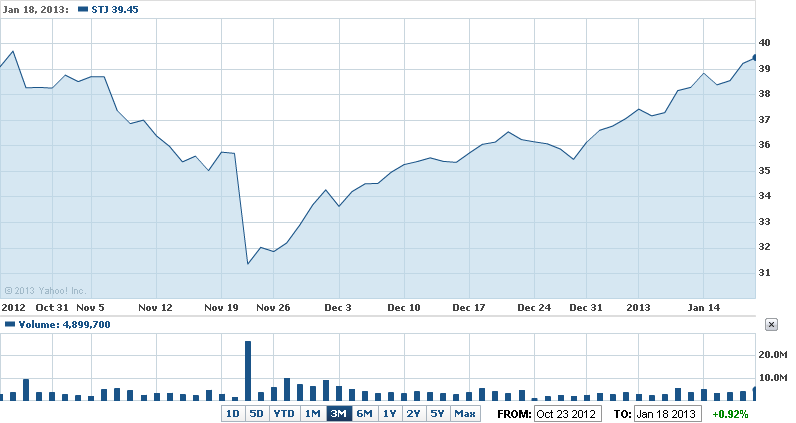 Don't Miss: Celgene Upgraded to Outperform and 2 Healthcare Stocks on the Move.