4 Heathcare Stock Stories for Investors Not To Miss
Amgen (NASDAQ:AMGN): Closing price $84.32
On Wednesday, Amgen announced top-line results of the Phase 3 Aranesp (darbepoetin alfa) RED-HF (Reduction of Events With Darbepoetin Alfa in Heart Failure) Trial, which was begun in 2006. A total number of 2,278 patients suffering from symptomatic systolic heart failure and anemia (hemoglobin levels ranging from 9.0-12.0 g/dL) were randomized to receive either treatment with Aranesp to reach a target hemoglobin of a minimum of 13.0 g/dL (not to exceed 14.5 g/dL), or placebo.  The evaluation failed to meet its primary endpoint of reducing the composite endpoint of time to death from any cause or first hospital admission for worsening heart failure.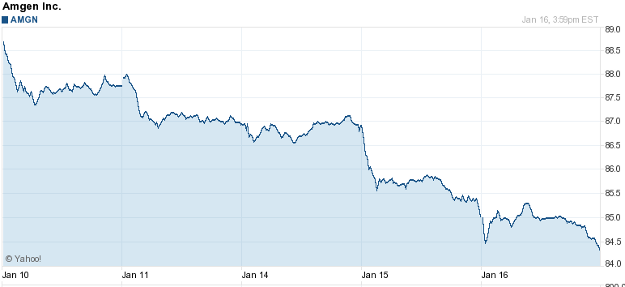 Quest Diagnostics Incorporated (NYSE:DGX): Closing price $59.93
Quest said on Wednesday that it would divest one of its diagnostic products divisions and take a charge of $89.5 million, or 56 cents per share, to write down a portion of its value and that of another business. The company also reported that the hurricane Sandy had negatively impacted its fourth-quarter earnings by 6 cents per share as well as fourth-quarter revenues by $21 million.
Are these stocks a buy or sell? Let us help you decide. Check out our Wall St. Cheat Sheet Stock Picker Newsletter now >>
Biogen IDEC (NASDAQ:BIIB): Closing price $142.82
Biogen and Elan Corporation (NYSE:ELN) reported Wednesday that they have submitted applications to the FDA and European Medicines Agency, asking for updates to the Tysabri (natalizumab) labels. The applications seek an expanded indication that would include first-line use for persons living with certain relapsing forms of multiple sclerosis who have tested negative for antibodies to the JC virus. A formal evaluation of both applications is ongoing.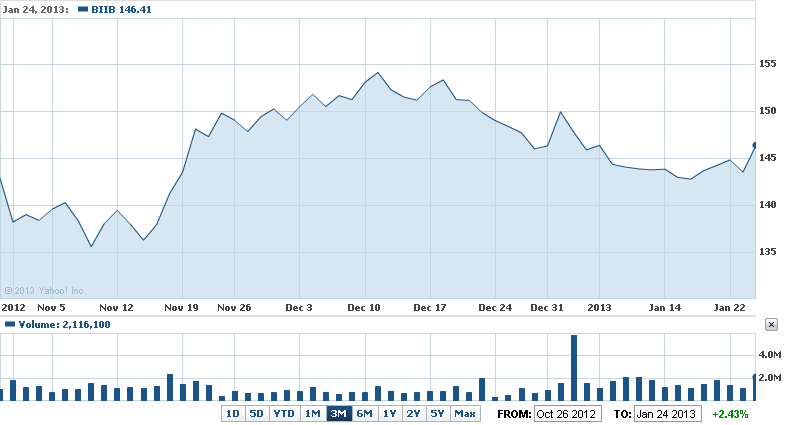 Omeros Corporation (NASDAQ:OMER): Closing price $5.89
The company announced Wednesday that its proprietary Cellular Redistribution Assay tech, which thus far has successfully unlocked 46 of the 80 total Class A orphan G Protein-Coupled Receptors for drug development, has identified small molecules that interact with a Class B GPCR. As with the Class A GPCRs, Class B receptors are significant players in a broad range of disorders, having been connected with various types of cancer (breast, brain, prostate, kidney, liver, pancreatic and gastrointestinal); multiple metabolic disorders including diabetes and obesity; learning and memory impairments, multiple sclerosis, attention deficit-hyperactivity, depression and other neuropsychiatric disorders;  immunologic disorders; osteoporosis and infertility.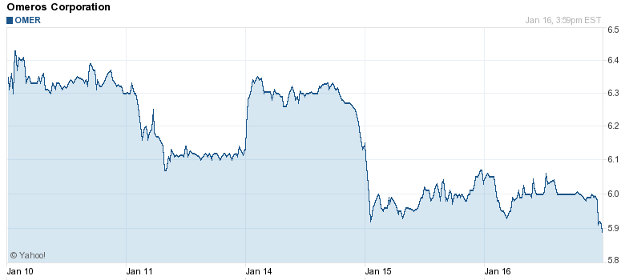 Don't Miss: Bristol-Myers Squibb and Quest Diagnostics Facing Healthcare Hurdles.