4 Heathcare Stock Stories Necessary for Investor Wellness
St. Jude Medical (NYSE:STJ): Current price $42.79
United States regulators say that the company has recalled a new delivery system employed to treat persons having a dangerous hole in the heart, subsequent to the discovery that the device could break in a small number of cases. More specifically, the core wire in the Amplatzer TorqVue FX Delivery System could fracture, causing serious damage and perhaps death, according to an FDA website notice, which also said that the Class 1 recall, considered the most serious type, was begun on January 18th.

Medtronic (NYSE:MDT) Current price $46.99
On Wednesday, the firm announced FDA approval and a United States launch of its Advisa DR MRI SureScan pacing system, representing Medtronic's second-generation MR-Conditional pacemaker and also the first system to unite the most advanced pacing tech with proven MRI access.
Are these stocks a buy or sell? Let us help you decide. Check out our Stock Picker Newsletter now.

Peregrine Pharmaceuticals (NASDAQ:PPHM): Current price $1.73
The firm has reported the results from its 70 patient open-label, randomized Phase II clinical trial of bavituximab used in combination with gemcitabine in patients suffering from previously untreated, advanced Stage IV pancreatic cancer. Included in the trial was the enrollment of patients having advanced metastatic disease including significant liver involvement and poor performance status associated with rapid disease progression. Results exhibited that the combination of bavituximab and gemcitabine resulted in more than a doubling of overall response rates and an improvement in overall survival when compared with gemcitabine alone (control arm). In the trial, patients treated with a combination of bavituximab and gemcitabine saw a 28 percent tumor response rate as compared to 13 percent in the control arm.

Pharmacyclics (NASDAQ:PCYC): Current price $76.66
The firm said on Wednesday that the FDA has granted breakthrough therapy designation to its investigational oral agent ibrutinib monotherapy for the treatment of patients who have relapsed or refractory mantle cell lymphoma and to ibrutinib monotherapy for the treatment of patients with Waldenstrom's macroglobulinemia, both of which are classified as B-cell malignancies. The designation is intended to step up the development and review of a potential new drug for serious or life-threatening diseases where preliminary clinical evidence indicates that the drug may demonstrate substantial improvement over existing therapies on one or more clinically significant endpoints, such as substantial treatment effects observed early in clinical development.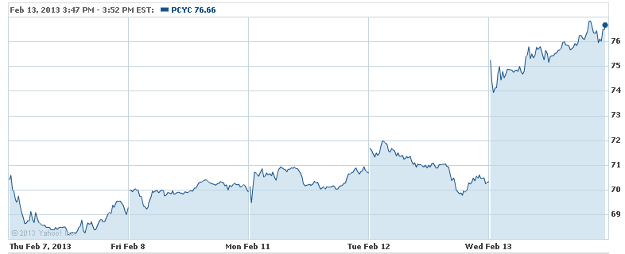 Investing Insights: Should Sane Investors Consider Celsion?