4 Merger and Acquisition Stock Stories for Investor Appraisal
Natural Resource Partners (NYSE:NRP) Current price $22.06
The company reported on Wednesday that has purchased a 48.51 percent general partner interest in OCI Wyoming and 20 percent of the common shares and all of the preferred shares of the latter from subsidiaries of Anadarko Petroleum Corporation. Natural Resources paid a net $292.5 million for the interests after the usual closing adjustments to the acquisition price of $310 million. The purchase was financed via a term loan of$200 million, the issuance of $76.5 million in equity, including a general partner contribution of $1.5 million, along with $16 million in cash.

Are these stocks a buy or sell? Let us help you decide. Check out our Stock Picker Newsletter now.
Kohlberg Kravis Roberts & Co. (NYSE:KKR): Current price $17.08
The global investment firm KKR has purchased a 24.9 percent in the investment manager Nephila Capital. Shares will be purchased pro rata from Nephila management and from Nephila's minority stakeholder, Man Group, which will retain an 18.75 percent interest. Nephila is an investment manager focused on investing in natural catastrophe and weather risk. Terms of the transaction were not reported.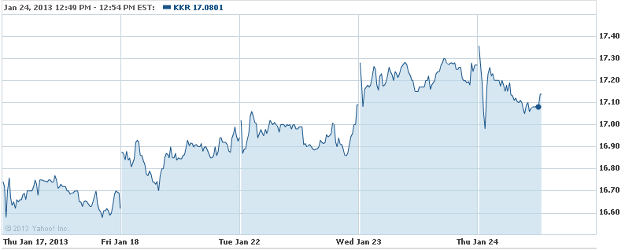 ICG Group (NASDAQ:ICGE): Current price $11.75
ICG Group said that one of its consolidated firms, Investor Force Holdings, will be acquired by MSCI I. Through the terms, MSCI will buy InvestorForce in a $23.5 million cash transaction, which should close in the first quarter. Upon closing of the transaction, ICG will post a gain of about $15.4 million on the divestiture of its InvestorForce interest and the release of any escrowed proceeds to ICG will bring additional gains.

NYSE Euronext (NYSE:NYX): Closing price $33.48
Chief Executive Duncan Niederauer said that his firm will not divest its European business so as to compete following a planned merger with IntercontinentalExchange (NYSE:ICE), but intends rather to spin off Euronext, says The Wall Street Journal, which added that both Nasdaq OMX and the London Stock Exchange have placed informal inquiries about acquiring Euronext, citing inside sources.

Don't Miss: David Einhorn Q4 Letter: I'm Still Long These 5 Big Investments.