4 Merger and Acquisition Stock Stories for Mid-Week
Anheuser-Busch InBev (NYSE:BUD): Closing price $88.99
The world's largest brewer is in discussions with the Justice Department in regards to concessions it could make that might win an okay for its acquisition of the half of Grupo Modelo that it doesn't already own, according to inside sources, who added that the negotiations surround a long-term supply and pricing accord between the merged firm and Crown Imports, which imports brands including Modelo's Corona into the United States. However, the discussions are not much about the divestiture of production assets.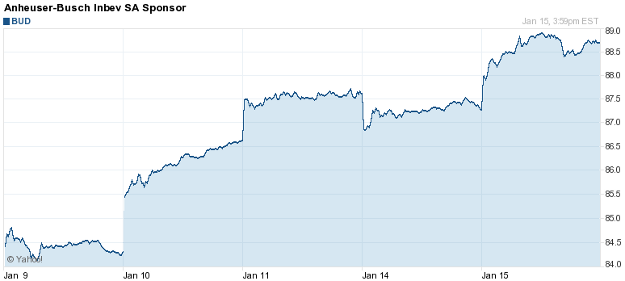 CBS Corporation (NYSE:CBS): Closing price $37.94
On Wednesday,  CBS announced a pair of strategic initiatives concerning its CBS Outdoor operating segment, which is comprised of two regional divisions, one in the Americas and one in Europe and Asia. As for the Outdoor Americas division, the firm has initiated a process of converting the unit into a real estate investment trust. CBS will look for a divestiture of its Outdoor operations in Europe and Asia, which will be presented as a discontinued operation as of December 31, 2012.

Are these stocks a buy or sell? Let us help you decide. Check out our Wall St. Cheat Sheet Stock Picker Newsletter now >>
American Realty Capital Trust (ARCT): Closing price $12.81
The firm says that its stockholders have okayed its merger with Realty Income Corporation (NYSE:O), along with other transactions entailed by the merger agreement at Wednesday's special meeting. More than 89.7 percent of the shareholders voting at the special meeting expressed their approval of the merger, representing in excess of 64.8 percent of all outstanding shares.
Denison Mines Corp. (AMEX:DNN): Closing price $1.50
Denison will acquire Fission Energy Corp. through a stock-swap deal valued at around $70 million, which is subsequent to a $1.3-billion buyout of Uranium One by Russia's JSC Atomredmetzoloto on Monday. Analyst Rob Chang at Cantor Fitzgerald had  expected Denision to be the probable buyer of Fission, but also pointed to Kivalliq Energy Corp., because of the few quality uranium companies that remained. One of the Fission assets bought by Denison is a 60 percent interest in the Waterbury Lake uranium project.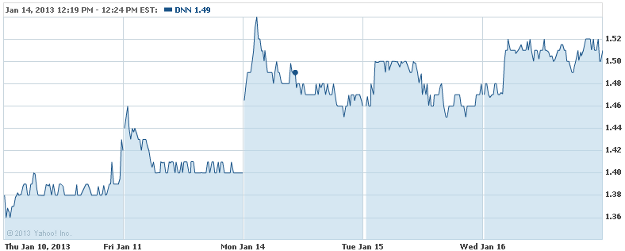 Don't Miss: This Imminent Merger Is Moving Airline Stocks Now.