4 Merger and Acquisition Stock Stories for Tuesday
Yahoo! (NASDAQ:YHOO): Closing price $21.22
On Tuesday, Yahoo made a big move towards enhancing its mobile experience by its purchase of  the location discovery application Alike. After all, Chief Executive Marissa Mayer had indicated that she would concentrate more efforts on mobile and not hesitate to buy firms to help to that effect. Yahoo bought Snip.it in January and before that, acquired the team behind the video platform OnTheAir in December. What is more, the firm has also boosted its mail applications on mobile with new iPhone, Android, and Windows 8 apps.

Bristol-Myers Squibb Company (NYSE:BMY): Closing price $36.56
Reckitt Benckiser Group reinforces its consumer health portfolio by acquiring the rights from Bristol-Myers Squibb to distribute over-the-counter medicines in Latin America, one of the world's fastest-growing regions. Through the terms of the three-year, $482 million accord, the United Kingdom-based Reckitt will exclusively license the domestic pharmaceutical giant's top-selling brands primarily in Brazil and Mexico, among which will include the cold remedy Naldecon, cough medicine Graneodin and anti-rash cream Dermodex. Bristol-Myers Squibb will manufacture the products until the deal expires, at which time Reckitt has an option to acquire the brands outright.
Are these stocks a buy or sell? Let us help you decide. Check out our Stock Picker Newsletter now.

Nexen (NYSE:NXY): Closing price $27.43
Is it finally over? Nexen announced Tuesday that it has received approval from the Committee on Foreign Investment in the United States with respect to Cnooc's (NYSE:CEO) proposed purchase. The deal now has all of the requisite approvals to proceed to the closing which is anticipated for the week of February 25th.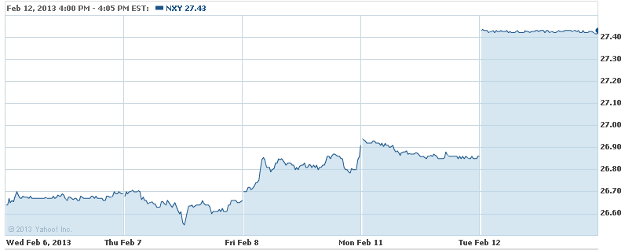 Hewlett-Packard Company (NYSE:HPQ): Closing price $17.09
In the United Kingdom, the Financial Reporting Council is exploring Autonomy Corp.'s financial reporting during the period prior to Hewlett-Packard Co.'s purchase as it investigates the published accounts of the firm for the period between January 2009 and June 2011, according to statement on Monday. Hewlett-Packard took an $8.8 billion writedown one year after buying Autonomy and on November 20th, the company was accused of miscategorizing sales and financial misreporting.

Don't Miss: Will Groupon's Success Be Determined By Its Acquisitions?