4 Merger and Acquisition Stock Stories To Start the Week
Dell (NASDAQ:DELL): Closing price $13.63
Southeastern Asset Management's decision to oppose the $24.4 billion buyout of Dell led by Chief executive Michael Dell is supported by major shareholders Harris Associates, Yacktman Asset Management, and Pzena Investment Management, which among them hold around 3.3 percent in the company, according to a knowledgeable source. While Harris and Yacktman were not immediately available for comment, Chairman Richard Pzena, of Pzena Investment, said that a Dell purchase should be in the ballpark of $20 per share or Dell should look at other options.

Rockwood Holdings (NYSE:ROC): Closing price $59.36
Rockwood, the largest producer of lithium products in the world, is mulling the divestiture of one of its ceramic-materials divisions that brings $550 million in yearly revenue, said three people with knowledge of the situation, who added that the firm has hired Lazard to examine options for Ceram Tec, which is based in Germany. CeramTec could be valued at roughly $1 billion, based on the average multiple paid in ceramic products deals in North America and western Europe over the last five years.
Are these stocks a buy or sell? Let us help you decide. Check out our Stock Picker Newsletter now.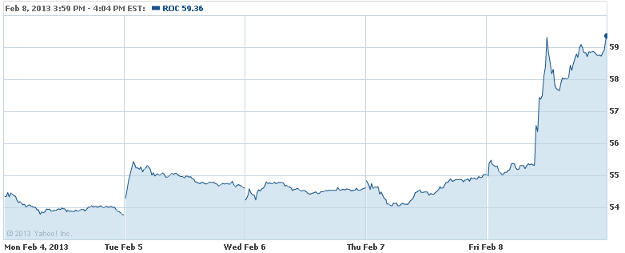 Taro Pharmaceutical Industries (NYSE:TARO): Closing price $52.25
Taro and Sun Pharmaceutical Industries, along with its subsidiary Sun Pharma, announced Friday that they are mutually terminating their merger agreement, which was announced in August 2012, through which all shareholders of Taro, other than Sun Pharma and its affiliates, would have received a cash payment of $39.50 per share upon the closing of the transaction. Both Sun Pharma and Taro agreed that terminating the merger agreement was in the best interest of the respective firms and of shareholders.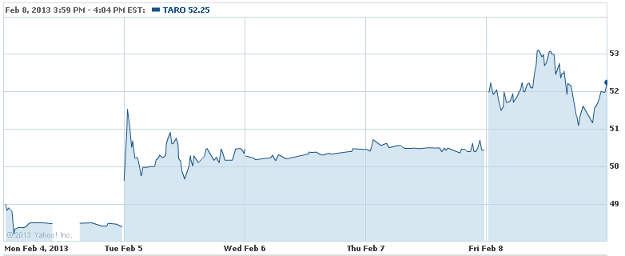 Monster Worldwide (NYSE:MWW): Closing price $5.34
The Internet-recruiting service is looking for a sale, but shares plunged Friday following its revealing that it wasn't certain if or when it would find a buyer. At first, Chief Executive Officer Sal Iannuzzi said he might divest the firm as a whole or in parts, and then recruited Stone Key Partners and Bank of America's Merrill Lynch to assist the process. Iannuzzi subsequently has reduced costs and sold the company's ChinaHR division when a suitor failed to appear. On Friday, Iannuzzi tolf investors in a conference call that "It's slower than I would have anticipated. I can't guarantee that there's anything of interest or appropriate interest to bring to our board for presentation."
Don't Miss: Will This Fund Block Dell's LBO?