4 Merger and Acquisitions Stock Stories Buzzing Right Along on Thursday
Dell Inc. (NASDAQ:DELL): Current price $13.84
On Thursday it was announced that, calculated on a preliminary vote tally from the special meeting of stockholders, Dell stockholders have okayed the proposal in which founder, Chairman and Chief Executive Michael Dell, will acquire Dell in partnership with the investment firm Silver Lake Partners. The preliminary vote tally indicates that the transaction was supported by the holders of a majority of Dells outstanding shares, which was required by Delaware law.
What is more, the tally shows that the deal was approved by the holders of a majority of Dells shares voting for or against the matter, not counting shares held by Michael Dell, certain of his related family trusts, Dell's board, and certain members of its management as separately mandated under the merger agreement.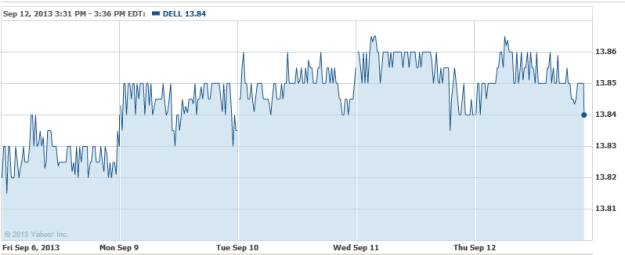 Lockheed Martin Corp. (NYSE:LMT): Current price $126.56
Lockheed wants to make additional tech purchases in the United Kingdom and Australia after acquiring the UK technology firm Amor Group. Lockheed's information technology division, which is one of the top players in the domestic cyber market in which it supplies services to the military and intelligence services, reported the Amor transaction late on Wednesday, saying that there would be more in the future. Executive Vice President, Lockheed's Information Systems & Global Solutions, Sondra Barbour, remarked that, "It's global, people are seeing their intellectual property going out the door and they're looking for ways to prevent it."

Linn Energy, LLC (NASDAQ:LINE): Current price $28.10
Linn Energy and LinnCo, LLC announced Thursday that the former will acquire oil and natural gas properties in the Permian Basin at a contract price of $525 million, subject to closing conditions. Linn expects the acquisition to close during the fourth quarter and will be financed mainly with proceeds from a committed term loan to be entered into at the close.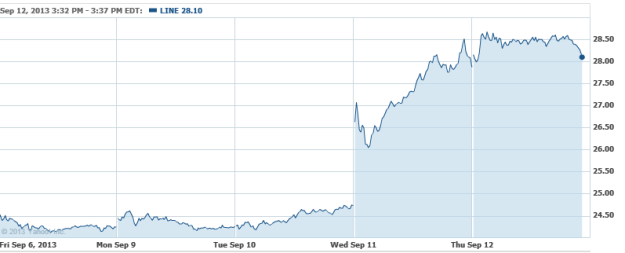 America Movil SAB de CV (NYSE:AMX) Current price $19.95
The Dutch telecoms firm KPN reported on Thursday that it is in discussions with its major shareholder America Movil concerning the latter's proposed full takeover offer. Through a statement, KPN said that its management and supervisory boards were in continued, constructive negotiations with America Movil, which has offered $9.58 billion to purchase the shares that it does not already own. However, KPN indicated in a statement that, "The outcome of these talks is not clear."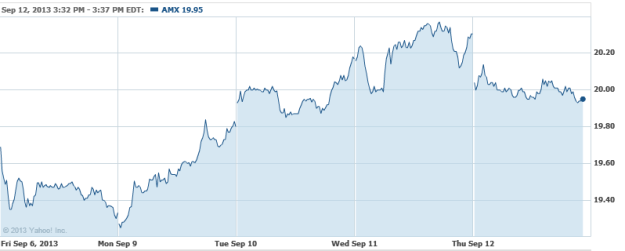 Don't Miss: 5 Stocks Catering to the Super Wealthy.