4 Merger and Acquisitions Stock Stories Demanding Investor Attention
H.J. Heinz Company (NYSE: HNZ): Current price $72.30
In what could be a landmark deal in the history of the food industry, Heinz announced Thursday it will be purchased by an investment consortium comprised of Berkshire Hathaway (NYSE:BRKA) and 3G Capital. Through the terms, which were unanimously okayed by the board, Heinz shareholders will receive $72.50 in cash for each share of common stock they own, in a transaction valued at $28 billion, which includes the assumption of Heinz outstanding debt.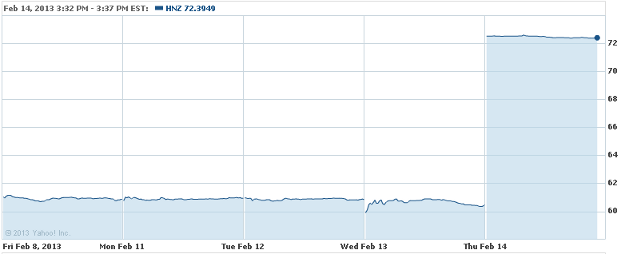 Artio Global Investors (NYSE: ART): Current price $2.73
The firm announced that it will merge with Aberdeen Asset Management, a world wide asset management firm listed on the London Stock Exchange, pursuant to which Aberdeen will buy Artio Global for $2.75 in cash per share. The price marks a premium of roughly 34 percent over the close of February 13th and a windfall of around 37 percent over the average closing price of Artio Globals shares during the 30 trading days ending the same date.
Are these stocks a buy or sell? Let us help you decide. Check out our Stock Picker Newsletter now.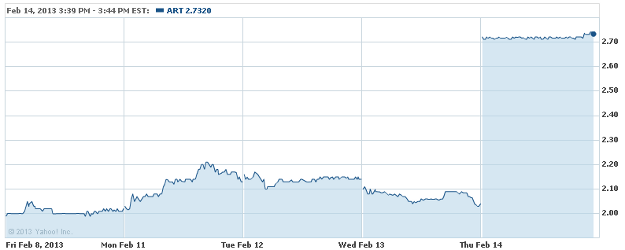 On Thursday, Cardinal Health said that it will purchase the privately-held AssuraMed, a company which supplies medical supplies to patients in the home, at a price of $2.07 billion, or $1.94 billion, subtracting the present value of tax benefits. The acquisition will be financed with a combination of $1.3 billion in new senior unsecured notes and the rest in cash. The deal should close by early April.
The brewing giant reported Thursday a revised agreement that establishes Crown Imports as the number-three domestic producer and marketer of beer via a complete divestiture of Grupo Modelo's United States division. This move establishes Crown as a fully-owned entity of Constellation, and provides Constellation with independent brewing operations, Modelo's full profit stream from all domestic sales, and rights in perpetuity to the Grupo Modelo brands distributed by Crown in the United States. Anheuser-Busch InBev is presently acquiring the 50 percent of Grupo Modelo that is does not own.