4 Merger and Acquisitions Stock Stories for a Friday Read
MetroPCS Communications (NYSE:PCS): Current price $11.23
Knowledgeable sources said Thursday that Deutsche Telekom is checking into improving the terms of a proposed merger of its T-Mobile USA business with MetroPCS Communications, as a last resort though which win over shareholders prior to a vote on the deal next week. The board of the  company is split over whether to sweeten the terms of the cash and share deal to gain approval at a MetroPCS shareholder vote on April 12 and is hoping it could still avert any change, according to the sources.
Are these stocks a buy or sell? Let us help you decide. Check out our Stock Picker Newsletter now.

Telecom Italia (NYSE:TI): Current price $7.51
The telecom's board will examine measures at a meeting next week to reinforce the firm's mobile-phone unit, including potential mergers and acquisitions, said two inside sources, who added that one of the options that will be discussed at the April 11 gathering is a potential combination with Hutchison Whampoa's wireless unit H3G SpA. While Telecom Italia might like to rid itself of a competitor, the company prefers not to spend cash, and offering stock would dilute investors' interest.

Rio Tinto (NYSE:RIO): Current price $45.33
The mining company Rio Tinto has recruited Macquarie Group to search out a buyer for its majority interest in the Northparkes copper and gold mine in Australia, growing a list of assets for sale as it concentrates on reducing costs and reinforcing its balance sheet, according to inside sources on Thursday. At the end of 2012, Rio Tinto valued Northparkes at $405 million, and would probably expect a premium for an operation where enough resources remain in the ground for mining to continue for another decade.
Are these stocks a buy or sell? Let us help you decide. Check out our Stock Picker Newsletter now.

Sterling Bancorp (NYSE: STL): Current price $11.14
Provident New York Bancorp will buy Sterling in a transaction that was valued at $344 million when the deal was announced, but shares of both firms have moved higher since that point. Sterling shareholders will get 1.2625 shares of Provident common stock and should expect the purchase to close in the fourth quarter. Once accomplished, Provident shareholders will own 53 percent of the company, and Sterling shareholders the remaining 47 percent. Provident intends to use an $80 million debt offering to help pay for the deal and expects it to be accretive to its 2014 earnings per share.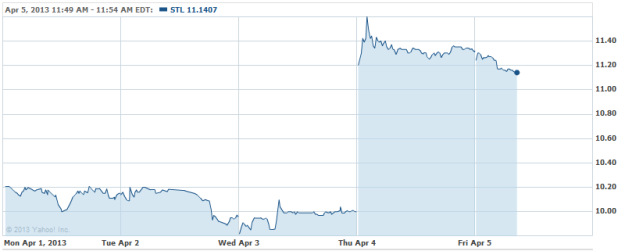 Don't Miss: These 5 Companies Love Tax Season.