4 Merger and Acquisitions Stock Stories for Investor Appraisal
Micron Technology (NASDAQ:MU): Current price $7.79
Despite the opposition of bondholders in the United States, Elpida Memory has won court approval for tech deals linked to its proposed $2.5 billion sale to Micron. On Thursday, a U.S. Bankruptcy Court judge in Delaware found no evidence of collusion or improper motives in the company's tech licensing arrangements with Micron and a $15 million patent sale to Rambus. Bondholders contended that the agreements were an attempt to bind the bankrupt chipmaker to Micron and were also unfairly beneficial to the latter.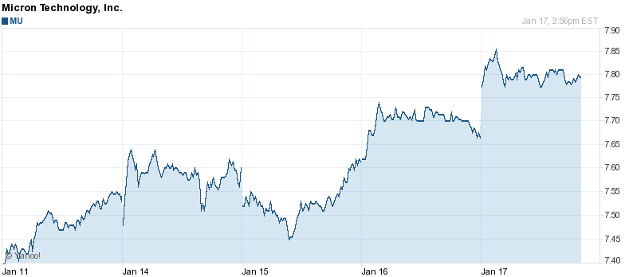 Are these stocks a buy or sell? Let us help you decide. Check out our Stock Picker Newsletter now.
K-Swiss (NASDAQ:KSWS): Current price $4.72
E.Land World will purchase all of the outstanding common stock of K-Swiss in a cash transaction of $4.75 per share, representing an aggregate equity value of about $170 million.

Stryker Corporation (NYSE:SYK): Current price $60.85
On Thursday, Stryker said it is proposing a voluntary general offer to acquire all the shares of Trauson Holdings Company Limited for HK$7.50 per ordinary share at a total cash consideration of $764 million, representing an enterprise value of around $685 million. Luna Group, Trauson's controlling shareholder, is tendering 61.7 percent of the Trauson shares towards the offer.
Dell (NASDAQ:DELL): Current price $12.85
While Dell explores a potential leveraged buyout by Silver Lake Partners, some of its customers are wondering how such a deal might affect their IT investments, says the Wall Street Journal. A number of CIOs worry that distractions from a deal could upset Dell's tech roadmap, but they also remarked they could easily switch to another supplier of computers, servers and storage such as Hewlett-Packard  if they must.

Don't Miss: Here Are Thursday's 4 Hottest Earnings Reports.