4 Merger and Acquisitions Stock Stories for Investors to Know
Research in Motion Limited (NASDAQ:RIMM): Current price $17.55
In a Monday interview with Die Welt, Chief Executive Thorsten Heins of RIM said that his firm will explore strategic alliances with other tech companies once it has introduced its new BlackBerry 10 models, adding that the group's strategic review might lead to the divestiture of the company's hardware production or the sale of licenses to its software, among other options. Heins remarked that "The main thing for now is to successfully introduce Blackberry 10, then we'll see."

Are these stocks a buy or sell? Let us help you decide. Check out our Stock Picker Newsletter now.
LM Ericsson Telephone Company (NASDAQ:ERIC): Closing price $10.36
Ericsson and STMicroelectronics (NYSE:STM) have retained JPMorgan to explore a divestiture of their cellphone-chip joint venture, ST-Ericsson, say inside sources to the Wall Street Journal.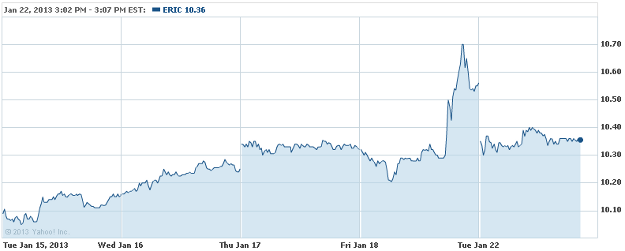 Groupon (NASDAQ:GRPN): Current price $4.85
It is thought that the online deals provider Groupon has purchased Glassmap at an undisclosed price. Glassmap's tech permits smartphone users to share their current location on a real-time basis with family and friends.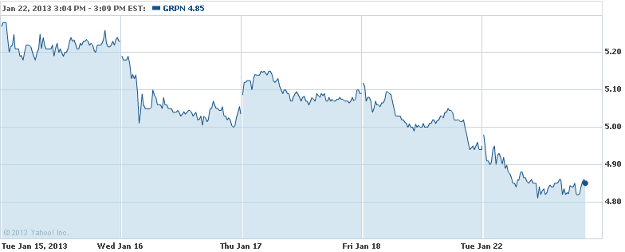 AT&T (NYSE:T): Current price $33.69
AT&T will acquire the domestic retail wireless unit operated under the Alltel name by ATN's subsidiary, Allied Wireless Communications Corporation of Atlantic Tele-Network, which is a telecommunications service supplier to rural, niche and other under-served markets. This is an all-cash transaction valued at around $780 million.

Don't Miss: These 5 Stocks Beat Earnings 90% of the Time.