4 Merger and Acquisitions Stock Stories for Thursday Due Diligence
Telefonica SA (NYSE:TEF): Current price $16.45
On Thursday, Telefonica Chair Cesar Alierta said that the Spanish telecoms group will not exercise its option to increase to 100 percent its interest in Telco, which is the holding company that controls Telecom Italia. In his first interview since his company agreed to gradually take over its Italian competitor by buying out co-shareholders in Telco, Alierta said that he expects other Telco shareholders to retain some or all of their stakes until February of 2015, which is when a shareholder accord among investors in Telco expires. Alierta observed in Il Sole 24 Ore that, "The structure of the new accords is very clear: Telefonica cannot own more than 49 percent of Telco. We have no intention of exercising the call (option)."

Under Armour Inc. (NYSE:UA): Current price $83.16
The sports performance and innovation brand has reported its purchase of MapMyFitness, a fitness tech company powering one of the biggest digital fitness communities. With this acquisition, Under Armour should be uniquely positioned at the forefront of sports and tech, and will continue to supply game-changing solutions to the manner of which athletes train and perform. The buyer intends to initially finance the $150 million purchase of MapMyFitness with borrowings through its existing revolving credit facility, cash on hand, or a combination thereof. The deal should close by the end of this year.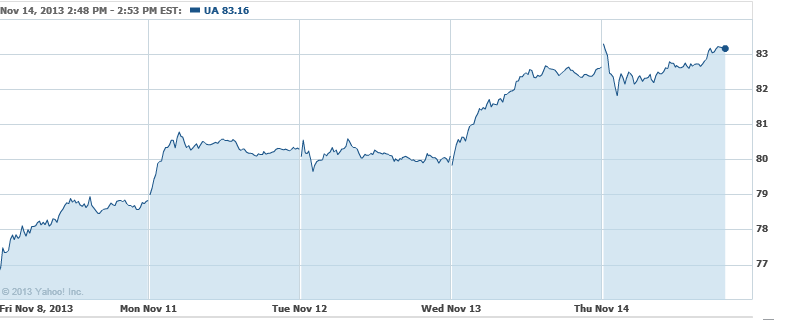 America Movil SAB de CV (NYSE:AMX): Current price $21.29
America Movil Chief Executive Daniel Hajj has said that his company is not planning a hostile takeover bid for Telekom Austria, subsequent to its failed attempt to acquire the Dutch company KPN. There has been speculation of late that America Movil, controlled by the billionaire Carlos Slim might attempt to take over Telekom Austria, of which it already owns a portion, but Hajj said that his firm had not acquired its stake in 2012 in order to mount a takeover, and saw itself as a "stable partner" of fellow large shareholder Austria.

Tyco International Ltd. (NYSE:TYC): Current price $37.67
Tyco announced Thursday its purchase of Westfire Inc., which sells special-applications fire protection services with operations in the United States, Chile and Peru. Westfire supplies key special-hazard suppression and detection applications in mining and telecommunications, along with other vertical markets. The transaction closed on November 8, and Westfire is expected to generate about $80 million in annualized revenues in fiscal year 2014.

Don't Miss: BlackBerry Marks $1B Investment by Laying Off 175 Employees.