4 Merger and Acquisitions Stock Stories Getting Noticed Today
T-Mobile US Inc. (NYSE: TMUS): Current price $25.98
In a regulatory filing on Tuesday, T-Mobile said that it might purchase spectrum from an unidentified private party, and would use a portion of the proceeds of a planned $2 billion share offering to finance the deal. Following the market close on Monday, the firm announced an offering of as much as 72 million shares, and said it could purchase wireless airwaves with proceeds from the sale. According to Reuters data, the share sale could mark the fourth-largest secondary offering so far in 2013.

Facebook Inc. (NASDAQ:FB): Current price $48.13
Knowledgeable sources say that the fast growing messaging service Snapchat recently turned down an all-cash purchase offer from Facebook at $3 billion or more. Meanwhile, other investors and potential suitors are making themelves known: Chinese e-commerce major Tencent Holdings had offered to lead an investment that would value the two-year-old Snapchat at $4 billion. The people also said that Snapchat's co-founder and Chief Executive Evan Spiegel — he is 23 — will probably not consider an acquisition or an investment at least until early 2014, as he hopes that the upstart's numbers of users and messages will grow sufficiently by then to justify an even bigger valuation.
IntercontinentalExchange Group Inc. (NYSE: ICE): Current price $199.70
On Wednesday, IntercontinentalExchange announced the successful completion of its previously-reported purchase of NYSE Euronext. The stock-and-cash transaction has a aggregate value of about $11 billion. The combination creates a premier operator of global exchanges diversified across a span of asset classes spanning interest rates, equities and equity derivatives, credit derivatives, bonds, foreign exchange, energy, metals, and agricultural commodities.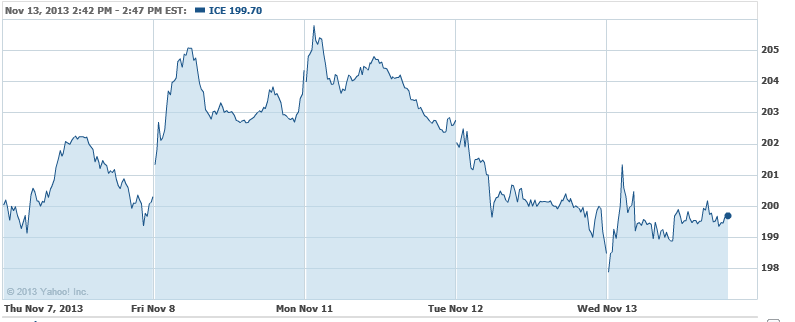 Identive Group Inc. (NASDAQ:INVE): Current price $0.68
Identive Group says that its board has approved the divestiture of its non-core businesses as part of a plan to facilitate its organizational architecture and enhance its concentration on high-growth products and markets. Within the next months, the firm expects to complete agreements to sell off its Multicard domestic business along with the assets connected with its Tagtrail platform.

Don't Miss: Employee Evaluations: Microsoft's Most Destructive Force?