4 Merger and Acquisitions Stock Stories Investors Need to Know Today
Telefonica SA (NYSE:TEF): Current price $16.75
It is being reported that the multibillionaire Petr Kellner's PPF Group NV will acquire a controlling interest in Telefonica Czech Republic AS for roughly $3.4 billion. Kellner's investment firm will purchase a 65.9 percent stake from Telefonica SA at a 2.1-percent discount to Monday's close, according to a statement. PPF is financing the transition with a $3.1-billion syndicated loan from banks led by Société Générale SA, and will make a required bid for the remaining shares excluding a 4.9-percent holding that Telefonica intends to keep.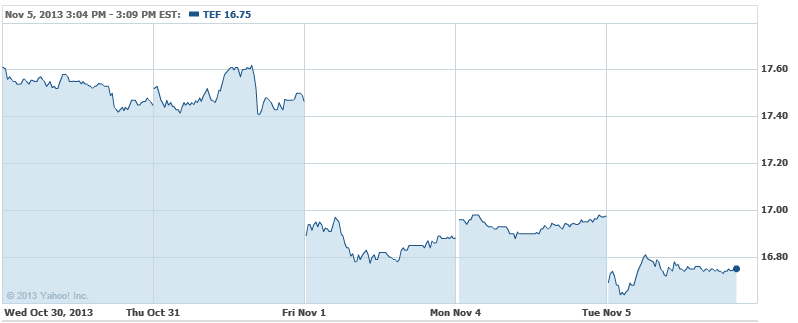 Men's Wearhouse Inc. (NYSE:MW): Current price $42.45
The suitor Men's Wearhouse lost out in the bidding competition for the pricey shoemaker Allen Edmonds Corp., to the private equity company Brentwood Associates, concluding the sale process. Los Angeles-based Brentwood purchased the firm from another private equity firm, Goldner Hawn Johnson & Morrison, for around $180 million, said an inside source.

Cooper Tire & Rubber Co. (NYSE:CTB): Current price $24.85
A non-jury trial is set to go forward Tuesday in Delaware Chancery Court, in regards to Cooper's dispute with India's Apollo Tyres Ltd. concerning a $2.5 billion buyout. Judge Sam Glasscock III, after granting fast-track status to the case, must decide whether to allow Cooper's request and force Apollo to give in to a new labor accord reached last week. The arrangement makes Apollo's objections to the transaction moot, the judge said in court papers. Apollo said that the labor deal was "illusory" and accused Cooper of trying to "hijack" the case.

Open Text Corp. (NASDAQ:OTEX): Current price $81.42
The enterprise information management firm Open Text announced Tuesday that it will acquire GXS Group, Inc., at a purchase price of $1.165 billion. GXS deals in business-to-business cloud integration, and after the transaction closes will become a wholly-owned subsidiary of OpenText.

Don't Miss: Will Apple 'Inherit the Earth' in a Future Energy Market?