4 Merger and Acquisitions Stock Stories Making Friday Headlines
Lloyds Banking Group Plc (NYSE:LYG): Current price $4.93
Lloyds Banking Group is poised to divest its Australian assets to Westpac $1.45 billion, marking the latter's biggest acquisition since its buyout of St George Bank five years ago. The deal with Lloyds, which is leaving the Australian market, will see the Australian bank purchase its asset finance unit CFAL and its corporate loan portfolio BOSI. The transaction is comprised of the motor vehicle finance book of $3.9 billion, equipment finance book of $2.9 billion, and a corporate loan portfolio of $1.6 billion, which all told give the loan portfolio a face value of $8.4 billion.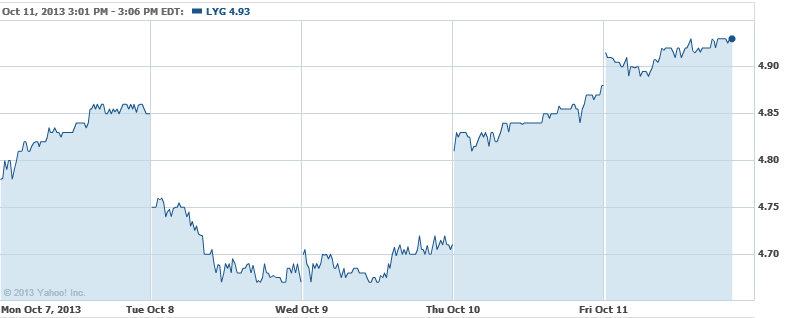 The Dow Chemical Co. (NYSE: DOW): Current price $40.96
On Friday, Dow said that it will sell its Dows global Polypropylene Licensin & Catalysts division to W. R. Grace & Co. at a sale price of $500 million. Dow expects to post a gain on this divestment, and net proceeds will be directed towards its primary priorities of remunerating shareholders, debt reduction and funding growth. The transaction should close by the end of the year, pending regulatory clearance.
AOL Inc. (NYSE:AOL): Current price $33.98
Inside sources report that AOL wants a more rapid way out of Patch, its localized news service. The company is said to be exploring the idea of hiring a banker to sell the properties outright or locate a strategic partner, according to one source. Last month, AOL said that it would lay off up to 500 employees and close hundreds of the 900 Patch sites in the network in order to make the properties profitable by year-end.

Safeway Inc. (NYSE:SWY): Current price $33.75
Safeway shares are up nearly 7 percent Friday after the supergrocer reported that it sold four Dominick's stores in the greater Chicago area to New Albertsons Inc., consistent with its strategy to take leave of  the region. The stores will be transitioned to New Albertsons-branded Jewel-Osco supermarkets.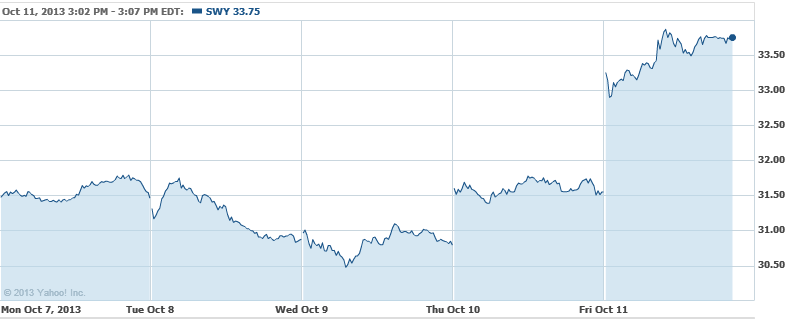 Investing Insights: Will An Upgrade Send T-Mobile Higher?