4 Merger and Acquisitions Stock Stories Making Monday Moves
Toronto Dominion Bank (NYSE:TD): Current price $89.44
According to The Sunday Times, Toronto Dominion is mulling over an opportunistic snap up of Royal Bank of Scotland's American retail banking division. TD Bank has long eyed Citizens, which is worth some 8 billion euros, said the paper, which also reported that Canadians are understood to have become more interested in the business since the summer. George Osborne's threatened split of RBS into "good" and "bad" banks has caused bidders to believe that a divestiture of Citizens, which is already part of RBS's strategic plan, might be brought forward.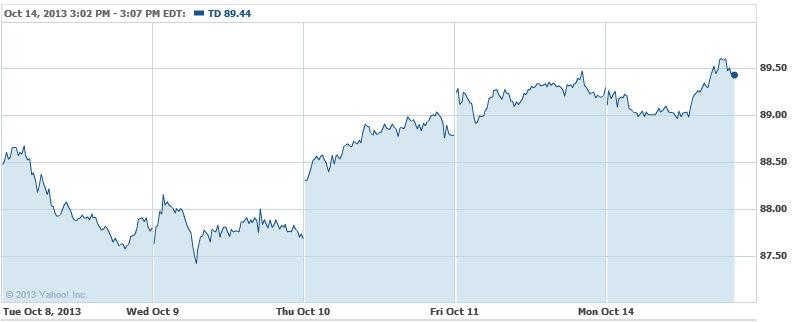 St. Jude Medical Inc. (NYSE:STJ): Current price $56.10
St. Jude Medical has acquired Nanostim Inc. at a price of $123.5 million, and said that its core tech, a tiny wireless pacemaker implanted entirely inside the heart, has been awarded European Union approval. St. Jude, which makes heart-rhythm devices, invested in Nanostim in May 2011, obtaining exclusive acquisition rights, and then reported in February that it would purchase the closely held Nanostim by year's end. The buyer may pay an extra $65 million if the tech hits additional regulatory and sales targets, it said Monday in a statement. St. Jude also said that the miniaturized pacemaker, which is the size and shape of a triple A battery, will be available soon in select European markets.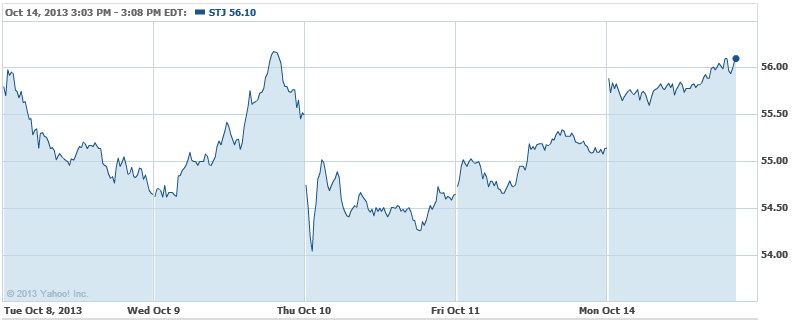 Telefonica SA (NYSE:TEF): Current price $16.94
Three inside sources say that Telefonica is readying a sale of its interest in the Czech Republic's largest phone company, so as to raise cash for further industry consolidation. Goldman Sachs Group Inc and Société Générale SA are assisting Telefonica to find a buyer for its 69-percent holding in Telefonica Czech Republic AS, according to the sources. The stake had a market value of roughly $3.6 billion before Monday's increase.
Perficient Inc. (NASDAQ:PRFT): Current price $19.86
The information tech consulting firm Perficient — which serves Global 2000 along with other large enterprise customers spanning North America — on Monday announced it has bought CoreMatrix Systems LLC, a $15 million annual services revenue consulting company that specializes in salesforce.com cloud computing services and solutions. The buyer's current annualized revenues are now nearing $400 million, and the transaction should be accretive to adjusted earnings per share immediately.

Don't Miss: Hemp Production: Viable in the Marketplace?