4 Merger and Acquisitions Stock Stories Making Monday Moves
Novartis AG (NYSE:NVS): Current price $77.73
On Monday, Novartis Chief Executive Joe Jimenez told Reuters that the firm may divest its non-strategic animal health and over-the-counter units if it is unable to transition them into businesses on a global scale. Jimenez further explained that his company has three world businesses, pharma, eye care, and generics, upon which it concentrates, but is examining options for its three subscale divisions: vaccines and diagnostics, over-the-counter, and animal health. Besides this, the company said on Monday it is selling part of its diagnostics arm, its blood transfusion diagnostics division, to Grifols for $1.675 billion.

Kohlberg Kravis Roberts & Co. (NYSE:KKR): Current price $22.99
KKR and The Brickman Group. Ltd. LLC  said Monday that the former will acquire the latter for a price of $1.6 billion from Leonard Green & Partners L.P. and other shareholders. This investment is being made by KKR North American Fund XI and other funds and accounts that are managed by KKR. The transaction, which is subject to the usual closing conditions, should close by the end of this year.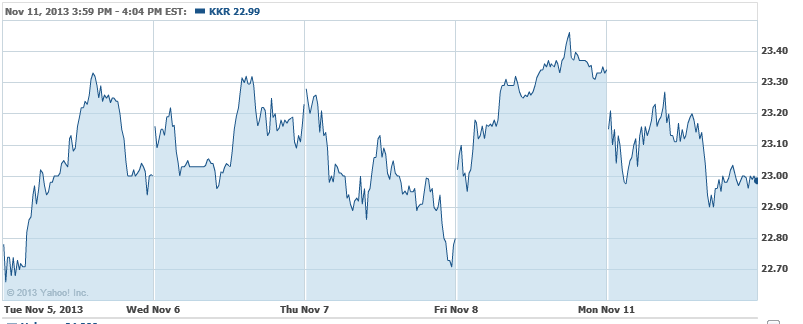 RDA Microelectronics Inc. (NASDAQ:RDA): Current price $18.15
Tsinghua Unigroup Ltd. an operating subsidiary of Tsinghua Holdings Co., Ltd., a completely government-owned limited liability corporation funded by Tsinghua University in China, and RDA Microelectronics, Inc. a fabless semiconductor firm that creates, develops and markets wireless systems-on-chip and radio-frequency semiconductors for cellular, connectivity, and broadcast applications, announced that they have made a definitive merger agreement through which Tsinghua Unigroup will purchase all of the outstanding ordinary shares of RDA at $3.0833 per ordinary share. The merger values RDA's equity at roughly $910 million on a fully diluted basis.
Akamai Technologies Inc. (NASDAQ:AKAM): Current price $45.22
Akamai said Monday that it has bought Velocius Networks, which supplies quality of service tech for optimizing application traffic spanning enterprise networks, in a cash transaction. It is anticipated that the deal will to complement Akamai's hybrid cloud optimization strategy for optimizing IP application traffic across the Internet for remote and branch end-users. The Velocius Networks QoS technology should be integrated into Akamai's existing tech to provide traffic prioritization and shaping capabilities for IP traffic accessed over Akamai's Intelligent Platform.

Don't Miss: Xbox One Versus PlayStation 4: Too Close to Call?