4 Merger and Acquisitions Stock Stories Making News On Tuesday
Nokia Corporation (NYSE:NOK): Current price $3.86
The German industrial conglomerate Siemens is looking for offers from private equity companies to purchase its interest in its telecoms equipment joint venture Nokia Siemens Networks, according to three knowledgeable sources on Tuesday, which explained that Siemens, along with its partner Nokia, is bringing efforts back to life to search out a buyer and has contacted private equity companies TPG, KKR and The Blackstone Group. Nokia and Siemens have been hoping to get out of the joint venture company via a buyout or public offering.
Are these stocks a buy or sell? Let us help you decide.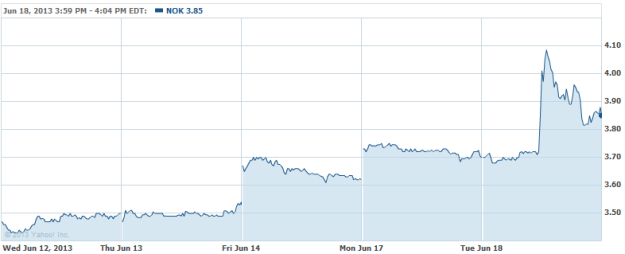 Elan Corporation (NYSE:ELN): Current price $13.78
On Tuesday, Royalty Pharma abandoned its hostile bid worth as much as $8 billion for Elan, thus allowing the Irish drug maker to freely search for other suitors, having put itself on the block last week. Royalty withdrew its appeal against a ruling by Ireland's takeover regulator, meaning that the offer automatically lapses and concludes a bitter, four-month struggle that involved court hearings, injunctions and angry words between the two parties. he end of that epoch begins a new takeover process for Elan, which has invited bids and has gotten interest from "more than one interested party."
Are these stocks a buy or sell? Let us help you decide.

Dell (NASDAQ:DELL): Current price $13.48
CNBC reported Tuesday afternoon that Carl Icahn, who has been pressing for a restructure the firm and for it to pay a large dividend against a leveraged buyout proposed by Chief Executive Michael Dell, sent a letter to shareholders proposing a tender offer to purchase 1.1 billion of Dell's 1.76 billion shares outstanding, or 62 percent, at $14 apiece. The letter was followed by a statement by Icahn's partner in his endeavors, Southeaster Asset Management, which indicated that it intends to sell around 72 million shares to Icahn, which would make him the largest single shareholder in the company, at 4.1 percent. Those announcements came after a letter to shareholders from Dell on Tuesdays morning urging them to approve the LBO during a special shareholder vote set for July 18, emphasizing once again the board's contention that PC-related business is "shrinking faster than the new business is growing."
Are these stocks a buy or sell? Let us help you decide.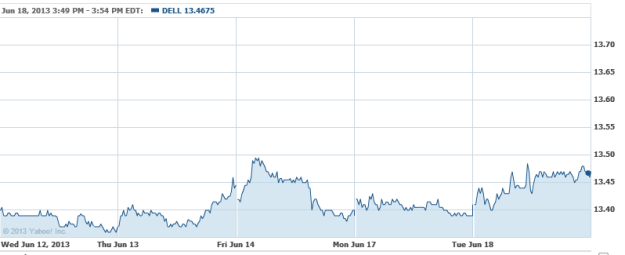 GlaxoSmithKline (NYSE:GSK): Current price $52.47
The United Kingdom drug firm said on Tuesday that South Africa's Aspen Pharmacare had tendered an offer to purchase its thrombosis drug brands Arixtra and Fraxiparine, together with the related manufacturing site. GlaxoSmithKline said that the proposed disposal complemented its strategy of concentrating upon products having the heftiest growth potential and the delivery of its pipeline.
Are these stocks a buy or sell? Let us help you decide.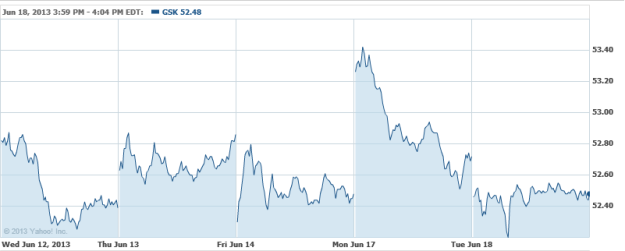 Don't Miss: 5 Dividend Stocks Approved By Warren Buffett.