4 Merger and Acquisitions Stock Stories Making Top Headlines
BlackBerry Ltd. (NASDAQ:BBRY): Current price $8.82
In a bit of a surprise, BlackBerry announced Monday that it will be acquired by a consortium to be headed by Fairfax Financial Holdings Ltd., still subject to due diligence. The letter of intent offers a transaction in which BlackBerry shareholders would receive $9 in cash for each share  they hold, in a transaction valued at roughly $4.7 billion. The consortium would purchase for cash all of the outstanding shares of BlackBerry not held by Fairfax, which owns around 10 percent of BlackBerry's common shares. The buyer intends to contribute those shares into the transaction.

eBay Inc. (NASDAQ:EBAY): Current price $54.76
Knowledgeable sources say that PayPal is close to a deal to purchase Braintree Payments Solutions, which if completed could potentially place the online payments pioneer at the center of the growing mobile commerce market. The transaction for Braintree would permit PayPal access to data and lucrative transaction fees from Braintree's expanding network, which presently processes over $10 billion yearly for firms such as OpenTable, Uber Technologies, and Airbnb. Braintree charges merchants a 2.9-percent commission and 30-cent transaction fee. Financials of the acquisition were not immediately available and the sources cautioned that talks could still go awry.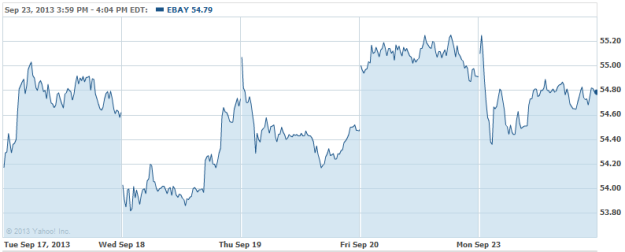 ACI Worldwide Inc. (NASDAQ: ACIW): Current price $53.01
The international provider of payment systems ACI Worldwide and Official Payments Holdings, Inc., which supplies electronic bill payment solutions, announced Monday that they will acquire Official Payments in an all cash transaction at $8.35 per share. The boards of both firms have unanimously approved this transaction.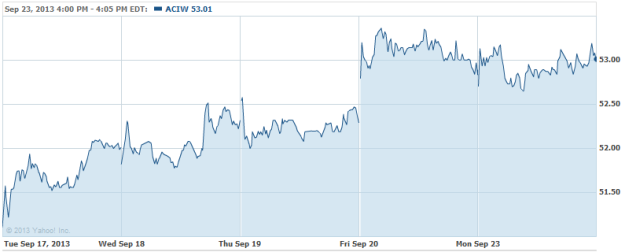 The Blackstone Group LP (NYSE:BX): Current price $24.12
Blackstone Group has purchased the Hughes Center complex in Las Vegas for $347 million, gambling on growth in the Nevada economy, according to two inside sources, who indicated that the acquisition was completed Monday. The seller is the joint venture Crescent Real Estate Holdings LLC, of Barclays Plc's Barclays Capital unit and Goff Capital Partners LP, based in Fort Worth. The Hughes Center contains roughly 1.5 million square feet and includes office space, a hotel, restaurants and corporate residential facilities on 68 acres, said the website of Blackstone's Equity Office. The Las Vegas Sun earlier reported the deal.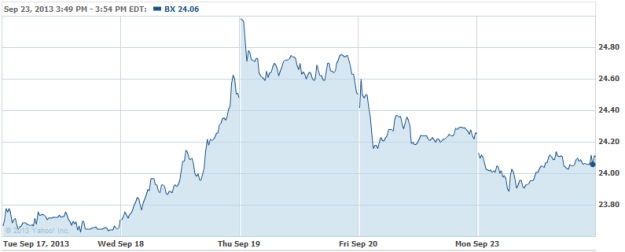 Don't Miss: What Does the Broad Unemployment Rate Really Tell Us?