4 Merger and Acquisitions Stock Stories Not to be Missed
Wells Fargo & Co. (NYSE:WFC): Current price $35.36
The firm is said to nearing the point of selling mortgage servicing rights, says Compass Point Research & Trading Group, quoting Inside Mortgage Finance. This implies that Wells Fargo would retain contact with its customers contact sub-servicing arrangement. Compass Point commented that, "Special servicers provide the operational expertise to physically service mortgages. Wells Fargo wants to maintain the sub-servicing of the mortgage in order to preserve the relationship with the borrower. However, the MSR asset would be sold to another party in order to provide capital relief to WFC under Basel III."
Are these stocks a buy or sell? Let us help you decide. Check out our Stock Picker Newsletter now.

VMware (NYSE:VMW): Current price $76.96
The virtualization and cloud infrastructure firm VMware has agreed to purchase Virsto Software, a provider of software which optimizes storage performance and utilization in virtual environments. Financials were not divulged, but the transaction should close in the first quarter.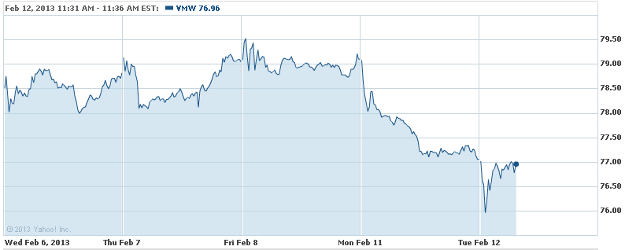 Millennial Media (NYSE:MM): Current price $11.67
The mobile ad network is reportedly nearing an agreement through which to purchase the mobile ad targeting and real-time bidding startup Metaresolver, say executives close to the firm. The terms of the arrangement were not reported, but analysts think that the deal will be for about $20 million. Such an acquisition would bring real-time mobile ad buying and targeting tech to Millennial Media, as the real-time display market is projected to grow by 72 percent in 2013 to comprise 19 percent of all digital display ads sold, says eMarketer. Mobile is a small part of that, but the mobile ad industry is going in a similar direction.

Eni (NYSE:E): Current price $47.06
Eni Chief Executive Paolo Scaroni said on Monday that his company is reconsidering the structure of its relationship with its subsidiary, the oil-services supplier Saipem, due to a criminal inquiry into the company for alleged bribes of Algerian officials. Last week in Milano, Scaroni was placed under investigation by prosecutors in a move linked to the Saipem inquiry. The officials are looking into whether Saipem, 43 percent owned by Eni, paid bribes to obtain billions of dollars worth of natural-gas contracts over several years leading up to 2009. Scaroni, in response to a question in regards to his firm's stake in Saipem, remarked that, "What has happened leads us to think again and look again at the situation. There is nothing worse than having no control and full responsibility."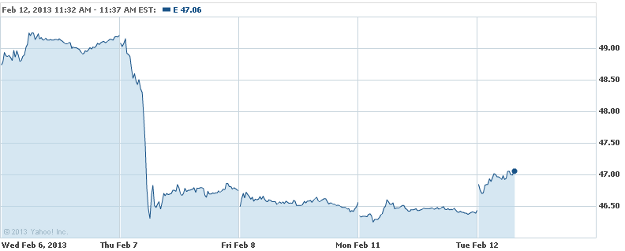 Don't Miss: Google Pays Apple $1 Billion Per Year for iOS Search Privileges.