4 Merger and Acquisitions Stock Stories Not to be Missed
Dell (NASDAQ:DELL): Closing price $13.38
Chief Executive Michael Dell wants majority control of his company in a transaction that would combine his 15.7 percent interest with as much as $1 billion of his personal funds, according to inside sources, who related that Dell might contribute equity financing of $500 million to $1 billion. Dell founded the PC maker in 1984, which is nearing a buyout led by Silver Lake Management. The same sources say that Microsoft Corporation (NASDAQ:MSFT) might make up a portion of the funding.

Are these stocks a buy or sell? Let us help you decide. Check out our Stock Picker Newsletter now.
Chesapeake Energy Corporation (NYSE:CHK): Closing price $20.11
The stunning news that Chief Executive Aubrey McClendon will step down on April 1st, has gotten shares moving and has some observers wondering if the "philosophical differences" between McClendon and the board (which he said led to his exit) are over whether the firm could now be poised to shop itself. In response, Chairman Archie Dunham, who took over the role from McClendon in 2012, has advised employees in an email that Chesapeake is not for sale and its strategy remains unchanged.

United Parcel Service (NYSE:UPS): Closing price $81.24
As was expected, the European Commission has blocked a €5.2 billion offer by United Parcel Service for TNT Express, saying that the proposed merger would have decreased competition in 15 EU countries. For its part, UPS had flagged the negative decision on January 14th, stating that it would withdraw its bid due of opposition from the EU competition regulator. The acquisition would have given it access to the Dutch peer TNT's stronger networks in Asian markets and Latin America.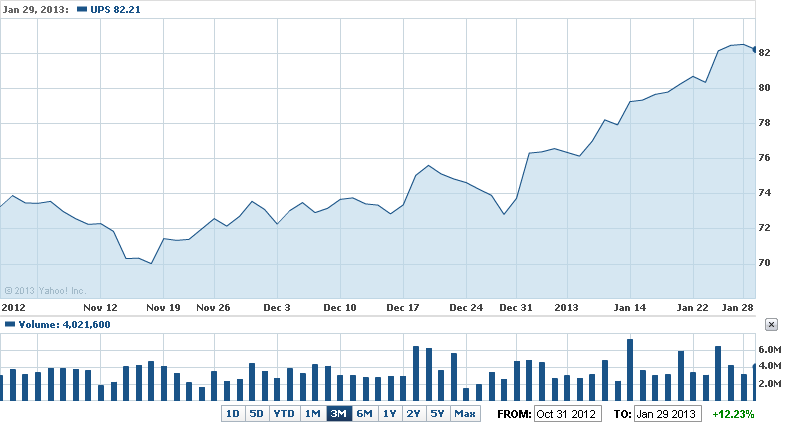 Kinder Morgan Energy Partners (NYSE:KMP): Closing price $87.61
Kinder Morgan is acquiring the natural gas pipeline operator Copano Energy at a price of $3.22 billion, so as  to exploit rising demand for infrastructure through which to transport huge supplies from the shale fields of Texas and Oklahoma. Copano's biggest shareholder, the private equity firm TPG Capital currently has a stake of more than 14 percent, and will receive a 41 percent premium to its $300 million investment made in 2010, if the transaction is realized.

Don't Miss: Is Chesapeake Sitting on Massive Growth Potential Without McClendon?