4 Merger and Acquisitions Stock Stories Ready for a Tuesday Appraisal
Siemens AG (NYSE:SI): Current price $121.86
Knowledgeable sources say that Siemens is in advanced negotiations to divest its water technologies business to the private equity group AEA Investors for roughly $800 million. AEA won over the private equity investor American Industrial Partners in the last round of the bidding, according to one of the sources. Siemens, which is Germany's most valuable company by market capitalization, manufactures products ranging from trains to hearing aids. The company reported last November its plan to sell off the water technologies unit.

AstraZeneca Group Plc. (NYSE:AZN): Current price $50.66
AstraZeneca said on Tuesday that its MedImmune division will acquire the biotech company Spirogen for as much as $440 million to shape up its oncology portfolio. Privately-held Spirogen centers on antibody-drug conjugate tech, which holds the potential to directly target cancer tumors while safeguarding healthy cells, according to AstraZeneca. The latter said it would pay an initial $200 million, plus a further $240 million if Spirogen attains development targets. It will also pay $20 million for an equity stake in ADC Therapeutics, which has a licensing accord with Spirogen.

VMware Inc. (NYSE: VMW): Current price $78.10
On Tuesday at VMworld 2013 Europe, VMware announced that it has purchased Desktone Inc., which provides desktop-as-a-service with an advanced multi-tenant desktop virtualization platform for delivering Windows desktops and applications as a cloud service. The firm's acquisition of Desktone closed earlier in October. Financial details of the transaction were not reported, but it is expected to be immaterial to VMware's financial results.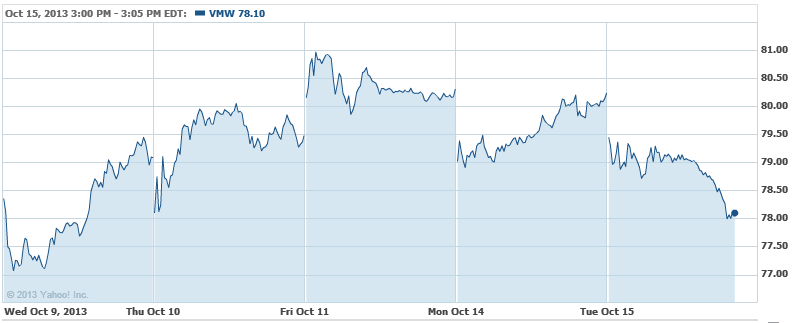 Yandex NV (NASDAQ:YNDX): Current price $38.44
Yandex reported on Tuesday its acquisition of KinoPoisk, which is the biggest and most comprehensive Russian-language website dedicated to movies, TV programs and celebrities. KinoPoisk's users can read expert and user-generated film reviews, find most popular movies, view trailers, obtain movie news and personalized recommendations, along with show times and tickets. The site has a global monthly audience of 18.6 million users, says comScore Media Metrix, and ranks as the 16th biggest web property in Russia. Financials of the transaction were not reported.

Don't Miss: Not So Easy Route for the Office Depot-OfficeMax Merger.