4 Merger and Acquisitions Stock Stories Ready for a Wednesday Appraisal
Towers Watson & Co. (NYSE:TW): Current price $109.79
The professional services firm Towers Watson announced Wednesday the finalization of the sale of its reinsurance brokerage arm to Jardine Lloyd Thompson Group plc. for cash consideration of $250 million. JLT will merge the former Towers Watson brokerage operation into its current reinsurance brokerage division and will also conduct combined business as JLT Towers Re until full integration is completed in 2015.

NGL Energy Partners LP (NYSE:NGL): Current price $32.10
NGL Energy announced Wednesday that it will acquire all of the equity interests of the diversified midstream energy business Gavilon LLC, which is owned by funds managed by Ospraie Management, General Atlantic, and Soros Fund Management. The agreement contemplates the acquisition of Gavilon's energy unit on a cash-free, debt-free basis at a cash purchase price of $890 million, which includes some $200 million of working capital, subject to a customary adjustment based on a target level of working capital to be delivered by Gavilon at the close of the proposed transaction, expected in December.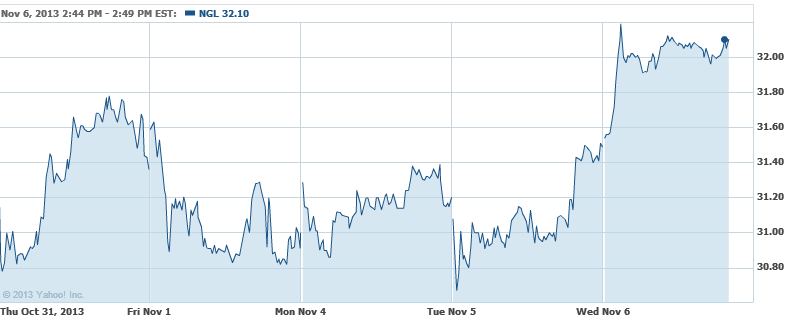 SM Energy Co. (NYSE:SM): Current price $88.02
SM Energy will divest of all of its properties lying in the Anadarko Basin, which includes its Granite Wash stakes, to various affiliates of EnerVest, Ltd. for cash proceeds of roughly $343 million. Third-quarter output from these assets was around 8,500 barrels of energy equivalent per day (75-percent natural gas), which comprised about 6 percent of its total production in that quarter. The effective date of this transaction is October 1, and closing should take place prior to the end of the year.

Amdocs Ltd. (NYSE:DOX): Current price $39.40
The supplier of customer experience systems and services Amdocs said Wednesday that it will acquire substantially all the assets of Celcite Management Solutions LLC, for roughly $129 million in cash, subject to the usual closing conditions. Additional consideration might be paid later based on the attainment of certain performance metrics. This purchase expands the Amdocs customer experience portfolio further into the network software domain, so as to manage customer experience across both networks and IT. The transaction should close late in Amdocs' current first fiscal quarter, or at the start of the second fiscal quarter.

Don't Miss: Who's Ahead in Smartphone Subscriber Growth?