4 Merger and Acquisitions Stock Stories Ready for Halloween Due Diligence
NYSE Euronext (NYSE:NYX): Current price $44.20
On Thursday, NYSE Euronext released the following statement and timeline regarding the finalization of its pending purchase by IntercontinentalExchange, which operates global markets and clearing houses.
"ICE and NYSE Euronext have postponed the closing date of their previously announced merger transaction from November 4, 2013 to a later date, to be announced to allow additional time for relevant European regulators and ministries to process and issue their approvals. As previously announced, ICE and NYSE Euronext have received a letter from the Chairmens Committee of the Euronext College of Regulators, which includes each individual regulator of the Euronext markets, indicating that it is not minded to object to ICEs proposed acquisition."

Coleman Cable Inc. (NASDAQ:CCIX): Current price $24.56
The manufacturer of electrical and electronic wire and cable products is looking at a potential sale, say persons familiar with the matter, who elaborated that Coleman is in early stage talks with potential buyers before releasing detailed financial data concerning the company in the next several weeks. Presently, Coleman has a market capitalization of a bit more than $400 million.

Jos. A. Bank Clothiers Inc. (NASDAQ:JOSB): Current price $48.02
Some traders seem to believe that Jos. A. Bank's proposed $2.3-billion attempted takeover of its bigger rival Men's Wearhouse Inc. might have represented the first move in a winning strategy. Men's Wearhouse turned aside the $48-per-share offer this week, responding that it "significantly undervalues" the clothing chain. Using data compiled by Bloomberg, Stifel Financial Corp. said that the profit multiple is cheaper than the median for United States retail deals from the last five years. Albert Fried & Co. commented that raising the offer to $55 per share would still add value for Jos. A. Bank shareholders, calculated on the potential to increase earnings and lower costs.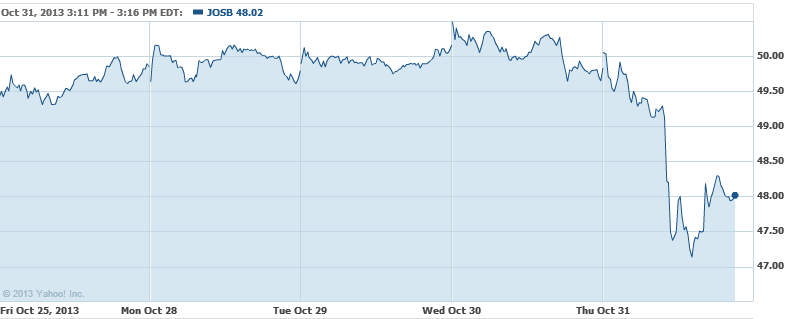 Crown Holdings Inc. (NYSE: CCK): Current price $43.60
Crown Holdings announced Thursday that it will acquire the Spanish maker of two- and three-piece food cans and ends Mivisa Envases SAU from certain investment funds managed by affiliates of The Blackstone Group L.P., N+1 Mercapital, and management, in a cash transaction valued at 1.2 billion euros. The transaction, which is subject to review by the European Commission and other competition regulators, should close during 2014 and to be earnings accretive.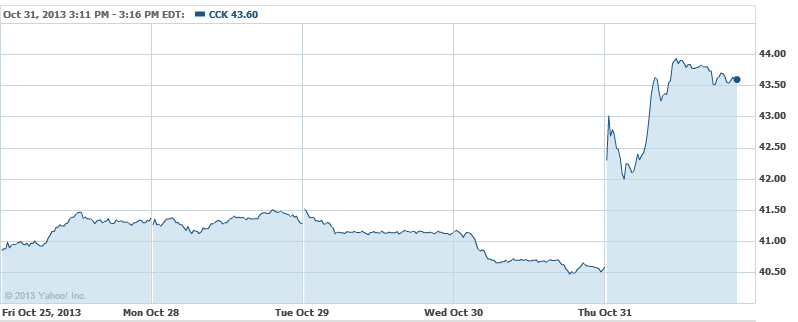 Don't Miss: Facebook: Curing Boredom for Users and Investors?