4 Merger and Acquisitions Stock Stories Ready for Tuesday Due Diligence
Splunk Inc. (NASDAQ:SPLK): Current price $58.80
The software platform for real-time operational intelligence announced that it will purchase BugSense Inc., which is an analytics solution for machine data generated by mobile devices. Acquiring BugSense will improve the ability of Splunk customers to analyze machine data directly from mobile devices and then correlate it with other machine-generated data in order to gain operational intelligence. Financials of the acquisition were not reported, but the transaction will be funded with cash from Splunk's balance sheet, subject to the usual closing conditions. It should close during the buyer's fiscal third quarter 2014.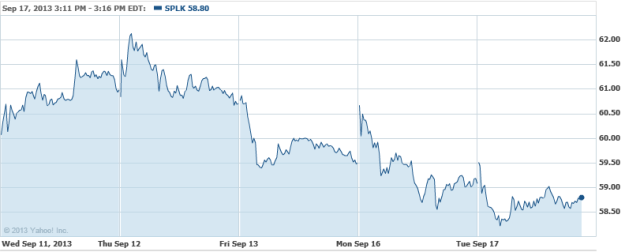 Clovis Oncology Inc. (NASDAQ:CLVS): Current price $72.18
Knowledgeable sources say that Clovis is examining strategic options, among which include a sale of the firm. Shares are up nearly 8 percent on Tuesday. Clovis is collaborating with advisers that include Credit Suisse AG to help it find a buyer, according to the sources, who elaborated that the process remains in the early stages and that Clovis is not yet in exclusive talks with any potential suitor. A spokeswoman for Clovis did not respond to phone calls and e-mails asking for comment on the potential sale. Credit Suisse spokesman Jack Grone declined to comment.

Huntsman Corp. (NYSE:HUN): Current price $19.63
On Tuesday, Huntsman and Rockwood Holdings, Inc. announced that the former will buy Rockwood's Performance Additives and Titanium Dioxide units. Under the terms, Huntsman will pay roughly $1.1 billion in cash and assume unfunded pension liabilities calculated at $225 million as of June 30. The purchase price of $1.1 billion in cash is aside from the assumption of unfunded pension liabilities. The acquisition should be immediately accretive to Huntsman earnings per share.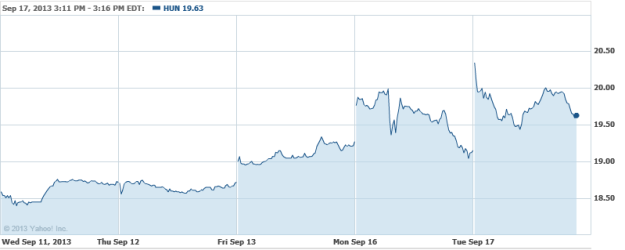 Solera Holdings, Inc. (NYSE:SLH) Current price $53.93
Solera on Tuesday said that it has purchased the entirety of the equity interests of Servicios Informaticos Serinfo S.A. in Chile. Serinfo is Chile's top supplier of dealership and bodyshop management systems, and its platform permits customers to improve operations and communicate effectively with all stakeholders in the purchase and care of vehicles, including the vehicle owner. Solera is a worldwide provider of software and services to the automobile insurance claims processing industry.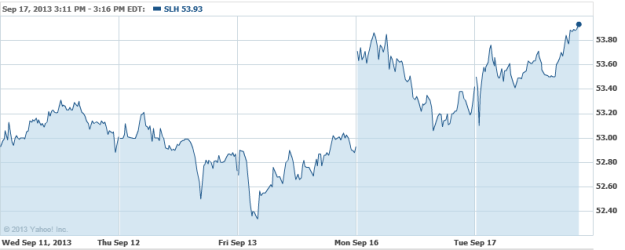 Investing Insights: Will a New Deal Boost Boeing Stock?