4 Merger and Acquisitions Stock Stories Rounding Out the Week
Dell (NASDAQ:DELL): Current price $13.47
Southeastern Asset Management, which is Dell's biggest shareholder with 7.5 percent, told the firm that the $24.4 billion buyout offer undervalues it, adding to a number of of investors who are anything but sanguine with the now famous arangement to take it private, according to two inside sources. The shareholder is said to have told Dell that it is "disturbed" by the $13.65 per share offer and rather thinks that the company is worth $20 per share, the sources said on Thursday.
Are these stocks a buy or sell? Let us help you decide. Check out our Stock Picker Newsletter now.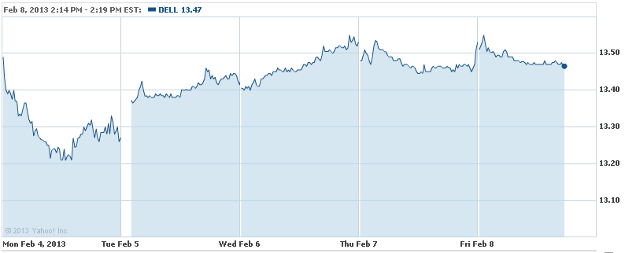 Tranzyme (NASDAQ:TZYM): Current price $0.60
On Friday, the firm said that its board has decided to explore and examine strategic alternatives, including the possibility of a merger, sale, other form of business combination, or other transactions so as to maximize value to its stockholders. However, Tranzyme has not made a decision to follow up on any specific transaction or other strategic alternative, and there is no set schedule for the strategic review process.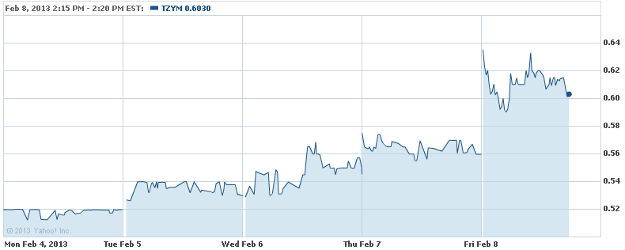 US Airways Group (NYSE:LCC): Current price $14.80
At long last, it is now conceivable that a merger agreement between US Airways and AMR Corp could happen by Tuesday of next week, according to a few knowledgeable sources. Creditors of AMR are supposed to meet on Monday and vote on the agreement, and if they concur, then the two boards might also convene and vote, hence the optimistic moods of the sources.

First M & F Corporation
(
NASDAQ:FMFC
): Current price $11.91
Renasant Corporation (NASDAQ:RNST) will purchase First M&F Corporation. Through the terms, M&F common shareholders will receive 0.6425 shares of Renasant common stock for each share of M&F and the transaction should qualify as a tax-free reorganization for M&F shareholders. Based on Renasant's 10-day average closing price of $19.22 as of February 4th, the total common stock consideration is roughly $118.8 million or 119 percent of tangible book value per share.