4 Merger and Acquisitions Stock Stories to Catch Attention
General Electric Company (NYSE:GE): Current price $23.32
GE has divested  of its remaining 49-percent common equity interest in its joint venture with Comcast, which includes NBCUniversal as well as the NBCU floors in 30 Rockefeller Center, at a price of $18.1 billion. Through the terms, GE will sell its equity stake in the NBCU joint venture to Comcast for $16.7 billion, but the former will receive $12 billion in cash, $4 billion in Comcast guaranteed debt, and $0.7 billion of preferred stock. The transaction should close before the end of the first quarter.

CME Group (NASDAQ:CME): Current price $56.98
Chief Executive Phupinder Gill of CME Group has put the kabosh on the possibility that the exchange operator would go private any time soon, only a day following a revelation that Nasdaq OMX Group had discussed such a move. On Tuesday in Miami at a Credit Suisse conference, Gill told invstors that he did not see "the advantage of going private at this time." He also remarked that CME would not be more flexible if it were privately held, noting the company would still be regulated by agencies like the Commodity Futures Trading Commission.
Are these stocks a buy or sell? Let us help you decide. Check out our Stock Picker Newsletter now.

Apple (NASDAQ:AAPL): Current price $473.04
Chatter in the markets that Apple intends to offer €4 per share in the German company Loewe has sent shares of the latter up in Frankfurt on Wednesday. For its part, Loewe claims to be unaware of any situation with Apple brewing.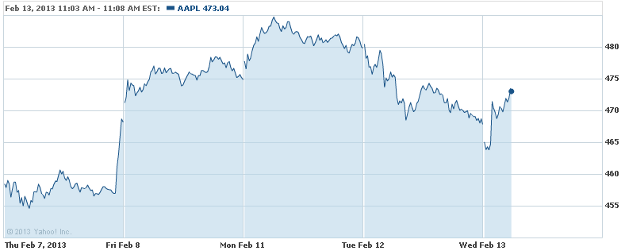 AOL (NYSE:AOL): Current price $37.10
On its website, gdgt confirms that it has been acquired by AOL, claiming that, "…its team, its technology, and perhaps most importantly its DNA, were a natural fit for AOL's world-class lineup of tech sites. Well, one thing led to another, and here we are. We honestly couldn't be more excited about adding gdgt to what is easily the most powerful, influential group of technology media brands in the world." No mention of financial terms or timelines was forthcoming.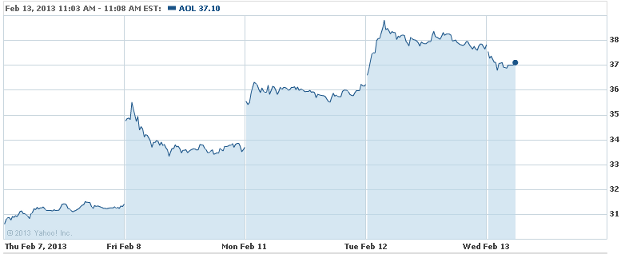 Don't Miss: Did GE Just Make Comcast an Entertainment Powerhouse?