4 Merger and Acquisitions Stock Stories To Close the Trading Week
Canadian Imperial Bank of Commerce (NYSE:CM): Current price $77
The bank announced Thursday that it it will purchase Atlantic Trust Private Wealth Management from its parent company, Invesco (NYSE:IVR). Atlantic Trust oversees around $20 billion in assets on behalf of its clients through 12 metropolitan locations throughout the United States. CIBC President and Chief Executive Gerry McCaughey said that "the Atlantic Trust acquisition aligns with our strategy to grow our wealth management business in North America."
Are these stocks a buy or sell? Let us help you decide. Check out our Stock Picker Newsletter now.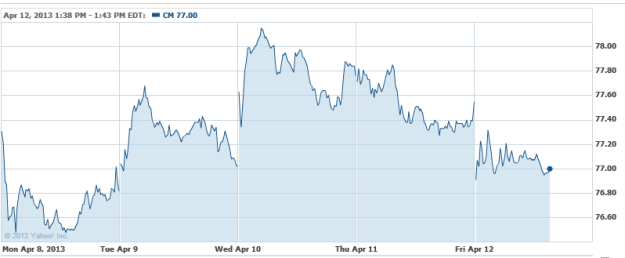 eBay (NASDAQ:EBAY) Current price $57.37
PayPal closed its second buyout of the year Thursday, with the purchase of Iron Pearl, a customer acquisition and retention startup founded by "growth hackers" Stan Chudnovsky and James Currier. Terms of the deal weren't disclosed. Iron Pearl reacted in a statement: "Sustained viral growth and longer-term customer retention via a suite of optimization tools through which to monitor user engagement and product stickiness. Typically, such services are brought to bear on startups looking to steepen their growth curves. PayPal has 123 million active registered accounts across 190 markets. Clearly, it's got massive user engagement. But there's always room for improvement, right? New growth channels to be uncovered and exploited? And that's the rationale behind PayPal's acquisition of Iron Pearl."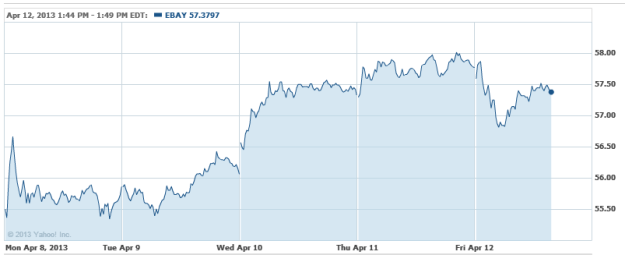 LinkedIn (NYSE:LNKD): Current price $180.14
LinkedIn has agreed to acquire Pulse, which is owned by Alphonso Lab, a news reader and mobile content distribution platform, which was founded in 2010 by Akshay Kothari and Ankit Gupta while they were students at Stanford University. The platform rapidly grew to become one of the most widely used for content consumption on the Internet, having over 30 million users who have activated its iOS and Android-based news reader apps in more than 190 countries.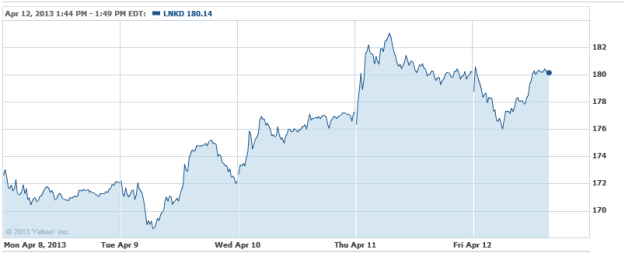 Time Warner (NYSE:TWX): Current price $59.33
Knowledgeable sources report that the owner of HBO and Warner Bros. film studio, is in discussions to acquire Turkey's ATV television network from Calik Holding. Time Warner's offer is roughly $1 billion, though the talks could still fall apart, according to one of the sources, who added that  negotiations were stepped up recently with Time Warner as the front- runner. Time Warner, which will spin off its magazine unit later in 2013, is only interested in the television channel, according to two of the people.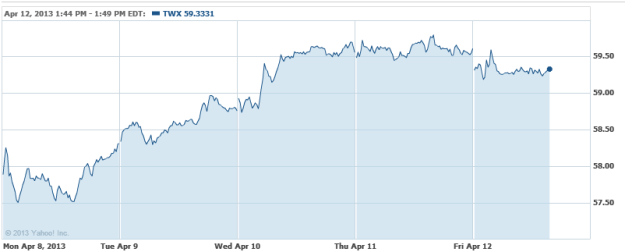 Don't Miss: What is Lynch Doing on Apple's Mystery Team?