4 Merger and Acquisitions Stock Stories to Spark Chatter
Cisco Systems (NASDAQ:CSCO): Current price $21.28
Chief Executive John Chambers says that even though his company has $46 billion in cash, he will no longer use it to purchase domestic companies. The apparent reason for this is that some 80 percent of the funds are in overseas accounts and if the money is spent in the United States, 35 percent will go to the IRS. Chambers has for several years been trying to get the government to modify the tax rule, which he maintains prevents him from employing more American workers. For the meantime, the executive says that he has ceased shopping for acquisition targets in the U.S. as well.
Are these stocks a buy or sell? Let us help you decide. Check out our Stock Picker Newsletter now.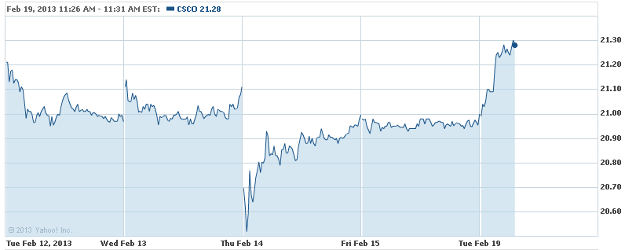 Orix Corporation (NYSE:IX): Current price $55.53
The Japanese financial services company will acquire the Dutch asset manager Robeco from its owner Rabobank at a price of around $2.6 billion in a cash and stock agreement, according to inside sources on Friday, who said that the parties should announce the deal publicly his week. The purchase will be the largest acquisition ever by Orix, a diversified financial services firm whose businesses include life insurance, leasing, real estate and corporate lending along with a professional baseball team.

Office Max Incorporated (NYSE:OMX): Current price $13.47
Knowledgeable source say that OfficeMax and Office Depot are in advanced negotiations to merge, as the retailers endeavor to fend off tougher competition from rivals such as Staples and Amazon.com. The transaction is anticipated to be stock-for-stock, although precise terms were unavailable, including what percentage of a merged group shareholders of each firm would own. The deal is not completed, and talks might still fail, but an announcement could come as early as this week, according to the sources.

General Motors Company (NYSE:GM): Current price $27.58
GM Chief Financial Officer Dan Ammann has confirmed to reporters that his company will reacquire from SAIC a 1 percent interst in their joint venture, returning it to a 50-50 partnership. Terms were not released. GM gave SAIC control of the venture back in 2009, at the peak of the financial crisis, in return for a loan and cash.

Don't Miss: How Big is E-Commerce?