4 Merger and Acquisitions Stock Stories to Start the Trading Week
H.J. Heinz & Co. (NYSE:HNZ): Closing price $72.28
Securities regulators in the United States brought a suit on Friday against unnamed traders in the options of  Heinz, claiming they traded on inside information before the announcment of a deal for the food giant to be purchased for $23 billion by Berkshire Hathaway and Brazil's 3G Capital. The suit was filed in federal court in Manhattan, citing "highly suspicious trading" in Heinz call options just before the February 14th announcement of the acquisition. What is more, the suit said that the trading caused the price of the particular call option they bought to jump by 1,700 percent and brought unrealized profits in excess of $1.7 million. The regulator claims the traders are either in, or trading through accounts in, Zurich. On Monday, authorities in Switzerland said that they have not yet been asked to assist a U.S. inquiry, even though a Zurich account is at the center of the matter.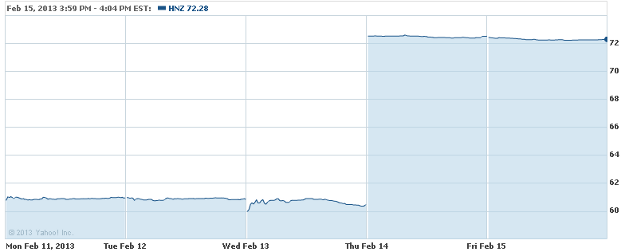 Orbitz Worldwide (NYSE:OWW): Closing price $3.35
The travel firm said Friday that it is exploring strategic alternatives for some or perhaps all of the assets within the Away Network, which includes valuable domain names along with strong organic traffic, specialized travel content, and an active customer base seeking travel news and deals. Orbitz explained that the revenue and adjusted EBITDA in regards with the Away Network is immaterial to its overall financial results, and that a divestiture of some or all of the assets associated with the Network would not alter the firm's earnings outlook for 2013. Senior Vice President, Product Strategy, Sam Fulton commented that "As we assess the prioritization of investments in different areas of our business, in particular in the context of the encouraging trends that we're seeing in hotel, we've made the determination that the elements of the Away Network, either collectively or individually, are likely to be more valuable to other parties."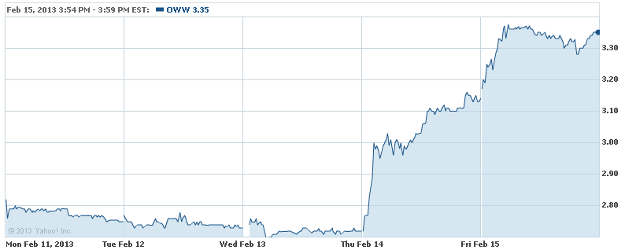 The Royal Bank of Scotland Group (NYSE:RBS): Closing price $10.66
An insode source says that the Abu Dhabi Investment Authority is nearing the acquisition of 42 hotels managed by Marriott International, and controlled by the Royal Bank of Scotland, adding that since summer the sovereign wealth fund has been a preferred bidder, and the sale includes hotels in London and Edinburgh. The Times of London reported on February 16th that the Authority might pay $992 million for the hotels which RBS bought after the borrowers defaulted on a loan in 2011, without saying how it obtained the information.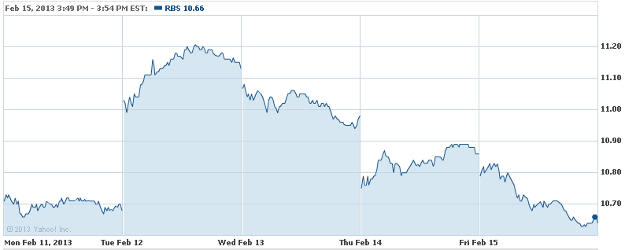 Office Depot (NYSE:ODP): Closing price $4.58
The second- biggest office-supply chain in the United States is said to be in discussions to sell the remaining half of its Mexican division to Grupo Gigante, according to knowledgeable sources, who said that Grupo Gigante is in negotiations with local banks to get financing for the acquisition, but the parties are also considering other options and the talks could yet fail.

Investing Insights: Is DirecTV Still a Winner?