4 Midweek Merger and Acquisition Stock Stories
Exxon Mobil Corporation (NYSE:XOM): Closing price $90.70
The firm's Chief Executive Rex Tillerson has met with the president of Iraqi Kurdistan, following an offer that Baghdad made in an apparent attempt to keep it operating in the south of the country, according to industry sources. The meeting occurred in Davos on Tuesday, the day after Tillerson met Iraqi Prime Minister Nuri al-Maliki, who asked whether ExxonMobel could stay in the south, despite signing deals with the Kurdish region. In 2012, the firm offered to divest its interest in the huge southern West Qurna-1 oilfield after fighting with Baghdad concerning its contracts with autonomous Kurdistan.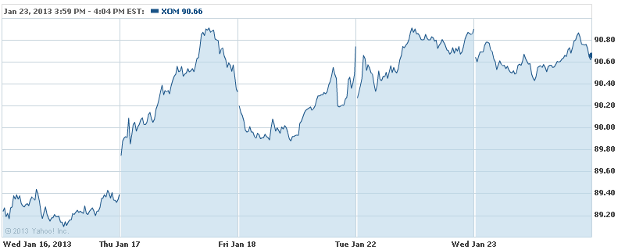 Tecumseh Products Company (NASDAQ:TECUA): Closing price $7.17
On Wednesday, the company said that during the past several months it has been working with Sagent Advisors, which it  engaged to examine various strategic alternatives, among which includes a possible sale. However, contrary to chatter, it has not gotten an offer at an $8 per share acquisition price, and it is not necessarily true that a transaction will be completed.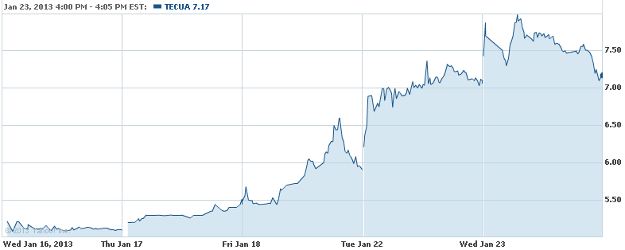 Are these stocks a buy or sell? Let us help you decide. Check out our Wall St. Cheat Sheet Stock Picker Newsletter now >>
Rio Tinto (NYSE:RIO): Closing price $55.48
The Anglo-Australian mining firm Rio is reviewing its coal business in Mozambique, and might either put it on the block, or recruit a partner that could help it  build the infrastructure required to get material to port, according to an inside source on Wednesday. There has been no timeframe set for completion of  the review, which comes after a $3 billion writedown on the Mozambique assets that were purchased from the Australia-listed Riversdale Mining in 2011.

Barnes & Noble (NYSE:BKS): Closing price $13.01
NOOK Media, a subsidiary of Barnes & Noble, announced Wednesday the finalization of its prior-reported investment by the learning company Pearson (NYSE:PSO), which made cash investment in NOOK of roughly $89.5 million, at a post-money valuation of around $1.789 billion, in exchange for preferred membership interests marking a 5 percent equity stake. Upon closing, Barnes & Noble now owns approximately 78.2 percent of the NOOK Media subsidiary and Microsoft Corporation, which also holds preferred membership interests, owns around 16.8 percent.

Don't Miss: GOP Debt Ceiling Bill Passes House, Moves to Senate.