4 Reasons Why Employers May Choose Private Healthcare Exchanges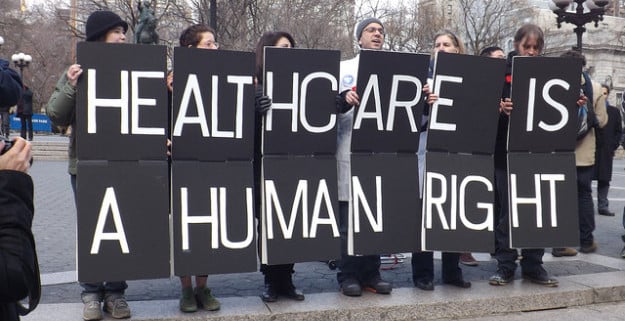 The ball is rolling, and things are changing in the healthcare and health insurance industries in the United States. The Patient Protection and Affordable Care Act, signed into law in March 2010 by President Barack Obama, set in motion an overhaul of the U.S. healthcare system that, despite the best efforts of the GOP, is unlikely to be reversed. The law of the land has changed, and everyone from individuals to insurers to corporations is changing with it.
Somewhat drowned out in the current conversation are employers. Under the ACA, employers with 50 or more full-time equivalent employees — which is determined by taking the number of full-time employees plus the combined number of part-time employee hours divided by 30 — are required to provide health insurance for their full-time employees or pay a tax penalty.
There are a lot of nuances to this employer mandate, but the big picture is pretty clear: Many employers are going to have to change the way they approach health insurance. Agitating the issue is the fact that health insurance costs have skyrocketed in recent years, making the traditional system of defined benefit employer-sponsored healthcare plans financially infeasible for many companies.
This has led to increased interest in private healthcare exchanges — which, as the name suggests, is a private version of the public exchanges that were recently rolled out for individuals. These exchanges serve as marketplaces for companies interested in shifting from defined benefit plans to defined contribution plans, much the same way that employers have shifted from defined benefit retirement plans like pensions to defined contribution retirement plans like 401Ks.
Private healthcare exchanges are a fairly recent development, though, and many employers are unsure how to think about and approach them. Fortunately, an organization called the Private Exchange Evaluation Collaborative has taken on the mantle of responsibility and set out to provide some insight into the area.
The organization — launched by nonprofit business coalitions Employers Health Coalition, Midwest Business Group on Health, Northeast Business Group on Health, and Pacific Business Group on Health, and PwC — conducted a survey designed to bring to light the thinking of employers that are considering participating in a private exchange. The survey turned up four key findings, highlighted in the following pages.
1. Where do other employers stand?
Employers always want to know what other employers are up to. If you run a businesses, it is valuable to know what your peers and competitors are doing — and in this case, it is valuable to know if they are turning to private exchanges for their healthcare coverage requirements or if they are shying away from them.
The Private Exchange Employer Survey found that 45 percent of employers either have already considered or plan to consider using a private healthcare exchange to provide insurance for their full-time employees before 2018. This is three years after the employer mandate of the ACA will go into effect, suggesting that it will take some time for the transition to happen.
Perhaps most interestingly, 58 percent of employers said they would consider simply contributing toward an employee's coverage on the public exchanges come 2017 or 2018, if the regulatory framework allows for such a thing. Fifteen percent of employers responded that they would encourage or would consider encouraging their employees to seek coverage on the public exchanges anyway.
2. Which aspects are important?
No matter what happens, employers want advice — good, independent advice that can help them implement the most effective and efficient coverage strategy possible. A full 69 percent of employers said it is very important that their adviser be independent of any exchange they are considering using.
The survey curated the elements of an exchange that are most important to employers and are most important to the consumer.

3. How reliable will the exchanges be?
According to the Private Exchange Employer Survey, the "greatest barriers to private exchange adoption relate to their immaturity and uncertainty about their longer term stability."
A full 80 percent of employers agreed that conditions such as the relative immaturity of the private exchange market, uncertainty of costs over time, the track record of the administrator, limited information, and employee readiness were all roadblocks to adoptions of private exchanges. These issues, then, are probably on the top of exchange operators' lists of things to address.
4. Different employers will require different exchanges
The needs of employers of different sizes will vary, which means that exchanges will need to be tailored to these different needs. The survey suggests that flexibility is very important for large employers, and that large employers put less emphasis on a "fully insured" option.
Don't Miss: Analysts Disagree: Will the Dollar Rise or Fall in 2014?