4 Reasons Why Galena Biopharma Is Headed Higher
Although Thanksgiving week is usually a slow period in the market, biotech stocks have been continuing their strong run. In particular, Galena Biopharma (NASDAQ:GALE) has seen an incredible run over the past few weeks with shares sitting near a 52-week high. Below are 4 reasons why shares are likely headed higher.
Galena Biopharma is a biopharmaceutical company focused on the development of targeted anti-cancer treatments. The lead asset is NeuVax and is currently being evaluated in a Phase III study for breast cancer. Shares of Galena Biopharma have soared over the past few weeks thanks to a number of exciting developments. The chart below indicates the November run for the company.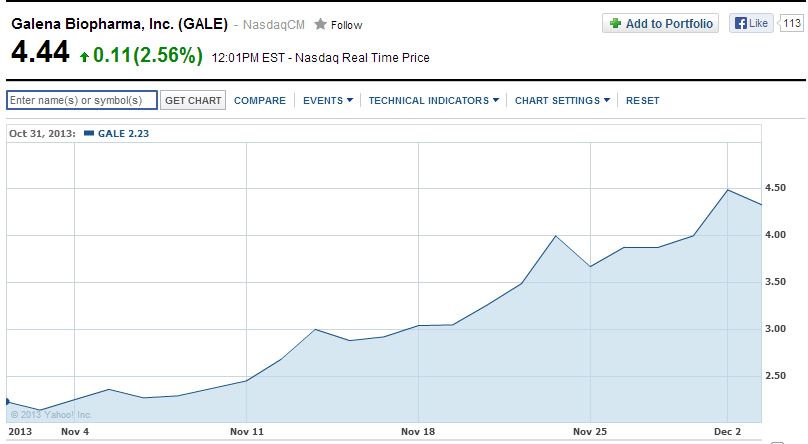 Since the $2.23 close on October 31, Galena has soared by nearly 100 percent. Given the strength of the company's pipeline and the recent Abstral launch, it's a wonder why it took this long. However, it appears the run is only beginning.
1. Analyst Coverage
On November 26, Oppenheimer became the latest research firm to issue an outperform rating on Galena Biopharma, along with a $6 price target over the next 12-18 months. Oppenheimer assigned the $6 price target based solely on the commercial potential of NeuVax. It is estimated that the commercial potential for NeuVax may reach $5 billion worldwide at its peak.
Oppenheimer definitely isn't the only analyst firm to have a positive opinion on Galena Biopharma. According to data from Briefing.com, since June 2012, 5 other reputable research firms have initiated coverage of Galena with a buy rating. Those ratings include:
March 25, 2013 – Needham – Buy
November 5, 2012 – Maxim Group – Buy
October 25, 2012 – MLV & Co. – Buy
June 4, 2012 – Cantor Fitzgerald – Buy
Prior to June 2012, several other prominent research firms also began positive coverage of Galena Biopharma including JMP Securities, Noble Financial Capital Markets, Piper Jaffray, and Roth Capital Partners. Given the strong research coverage and the fact that Oppenheimer believes that NeuVax alone is worth $6 per share, investors should be extremely excited about the potential for upside surprise over the coming months.
2. Institutional Holdings
One of the best ways for retail investors to determine the potential of a company is to determine if institutions are holding shares of the company. In Galena's case, they certainly are.
According to the latest filings, institutions own approximately 17 percent of the outstanding shares for Galena Biopharma.  This represents a total value of nearly $70 million based on Galena's latest market capitalization.  That certainly indicates a high confidence level that the company is likely to succeed. During the last quarter, four new institutions took a stake in the company:
Highland Capital Management: 800,000 shares
Bridgeway Capital Management:  539,150 shares
Dafna Capital Management:  375,000 shares
UBS O'Connor:  349,400 shares
In addition, there are some other very well known holders of Galena Biopharma including Barclays, Blackrock, Vanguard, Northern Trust, and State Street. Given the success that these institutions have had over many years, it's hard not to be bullish on Galena Biopharma.
3. Abstral Potential
Galena Biopharma acquired Abstral from Orexo AB on March 18, 2013.  Abstral was FDA approved in 2011 and is a fentanyl sublingual tablet for the management of breakthrough cancer pain in opioid tolerant patients. Patients suffering from cancer usually experience "background pain," which can normally be controlled by pain medications. However, even these medications cannot stop "breakthrough pain," which is moderate to severe "spikes" of pain. A few facts about breakthrough pain include:
It usually affects 23 percent to 93 percent of all cancer patients with controlled every day pain
The pain can come on suddenly and quickly, often without warning.
It is often extremely painful and is usually described as "moderate" or "severe".
Normally lasts between 30 and 60 minutes.
Episodes of breakthrough pain can occur 3-4 times a day.
Breakthrough pain is known to interfere with daily living, which is why Abstral has the potential for massive success. In October, Galena Biopharma officially launched Abstral in the United States. Although the official launch didn't occur until October, the company did have some minimal sales of Abstral during the third quarter that totaled $1.2 million. Galena has now fully commenced its promotional efforts for Abstral so investors can expect sales to increase exponentially going forward.
Decision Resources, one of the most highly respected consulting and advisory companies in the healthcare industry, conducted an analysis of the "cancer pain drug market." The firm expects that the market size will increase to $3.7 billion in 2018. To put that in perspective, the total size was just $2.3 billion in 2008. Additionally, the U.S. market size for TIRFs (transmucosal immediate-release fentanyl) was approximately $400 million in 2012. Given that the overall "cancer pain drug market" is going to more than double from 2008 to 2018, I don't think it is unreasonable to assume that the TIRF market can hit $700 million in 2018.
4. Valuation
Oppenheimer determined that Galena Biopharma was worth $6 per share based simply on the potential of NeuVax. However, given the above market analysis of Abstral, I think it is likely that Galena could get a large bump in valuation over the coming years.
It has already been established that the TIRF market can hit $700 million by 2018. If Galena Biopharma can capture 25 percent of that market, that would result in annual sales of $175 million. So how does that translate to the share price? A conservative way to value the additional value of Abstral is to look at a price/sales ratio. Biotechnology stocks can command massive price/sales ratios but since I want to remain conservative, I will assume that Galena Biopharma will trade at 4x sales.
Based upon the company's shares outstanding of 105.24 million, Abstral could add roughly $6.65 per share (175 million x 4)/(105.24). Add that to the $6 value from NeuVax and Galena shareholders are looking at a share price between $12 and $13. Based on today's price, that would represent a return of more than 200 percent.
Risks Facing Galena Biopharma
Despite all the strengths that Galena Biopharma has, it is important for investors to realize that the company is not without risk. First, the company is a small-cap biotechnology stock and like all small-cap stocks in this industry, is subject to tremendous trading volatility. The share price is likely to swing substantially based on news that the company announces regarding Abstral sales, NeuVax updates, and additional trial candidates.
Bad news would likely send the shares falling while good news will send shares soaring. Investors who are risk averse should only invest what they can afford to lose. It also goes without saying that if the NeuVax results are not as expected, Galena Biopharma's share price will drop significantly.
Conclusion
Galena Biopharma certainly has a lot going for it. It is technically strong and has maintained its price level despite soaring nearly 100 percent since the beginning of the month. With lots of catalysts coming over the next 12 months and increased awareness by both research firms and institutions, investors should strongly consider getting in now before it's too late.
Follow Tom on Twitter @tommymeyer82.
Don't Miss: It's Time to Pay Attention to Threshold Pharmaceuticals.