4 Tech Stock Stories For a Thursday Download
Facebook (NASDAQ:FB): Current price $28.95
In the first quarter, mobile advertising revenue growth accelerated as Facebook sold more ads to users on smartphones and tablets, which partially outweighed the higher spending that pinched profits. New sorts of ads created for smartphones, especially those aimed at luring Facebook users into installing mobile applications on their phones, helped swell revenue, while traffic to the social network stayed strong. These results implied to Wall Street that Facebook was keeping up with consumers' shift from PCs to smartphones, even if the had few big surprises in store during the first quarter.
Are these stocks a buy or sell? Let us help you decide. Check out our Stock Picker Newsletter now.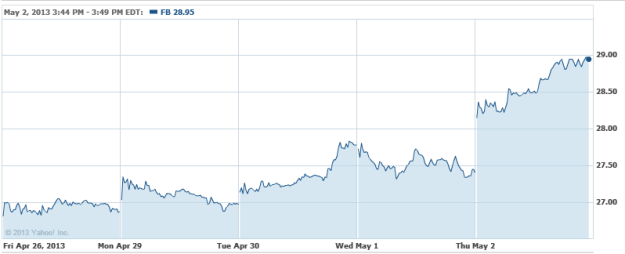 Microsoft Corporation (NASDAQ:MSFT): Current price $33.07
A tech development firm in New York, CopyTele, has sued Microsoft over claims that its web-conferencing service, Skype, infringed encryption-related patents.  The firm said it filed a complaint in federal court in Brooklyn, alleging that Skype infringed two patents for tech that aids in maintaining secure Web-based communications. According to a copy of the complaint provided by the firm, CopyTele is seeking unspecified damages but the original filing could not be immediately confirmed in court records. Chief Executive Robert Berman commented in a statement that "these encryption patents are a prime example of the enormous, untapped potential at CTI, adding that the patents have "tremendous value" that was "masked" under the previous management.

Yelp (NYSE:YELP): Current price $31.60
Yelp trimmed its first-quarter losses while local merchants purchased more ads to link with a still-expanding audience that depends upon the online business review site for recommendations on things like restaurants and termite inspectors. This progress made during the period emboldened Yelp to reinforce its financial forecast farther than Wall Street's expectations, causing a 10 percent jump in the share price after the first-quarter numbers and management's outlook appeared late on Wednesday.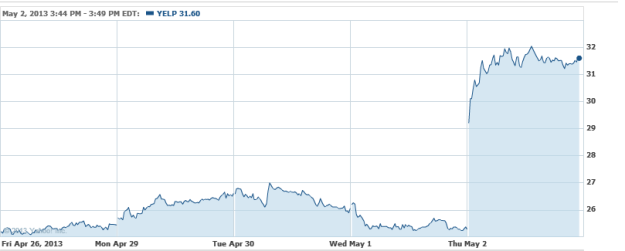 LinkedIn (NYSE: LNKD): Current price $201.90
The company has added the ability to upload videos, images, and visual presentations to LinkedIn profiles, permitting professionals having visual skills to show what they have created, and also to illustrate professional accomplishments. LinkedIn remarked on its blog: "From the analyst who makes annual predictions on tech trends to the 3D animator who is looking to fund a new short film, the opportunities are limitless for how professionals can now use the LinkedIn profile to help showcase these unique stories in a visual way." Now, content can be uploaded from a computer, or imported from other websites, and other LinkedIn members can 'like' and comment on the visual portfolios.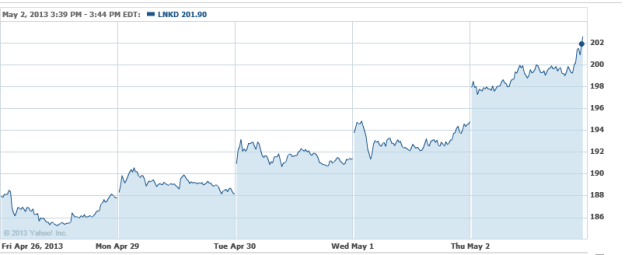 Investing Insights: Is AOL A Buy?