4 Tech Stock Stories for Friday Download
Google (NASDAQ:GOOG): Current price $775.60
Google has submitted a proposal in regards to what it was willing to settle earlier Friday, after negotiations in Brussels went to the wire. But analysts and observers wonder whether the European Commission will get more concessions out of Google than will the United States. A knowledgeable source said that the proposal is very much like what Google already agreed to in a case with the Federal Trade Commission, concerning scraping information for it to include in search results, and sharing it through advertising APIs.
Are these stocks a buy or sell? Let us help you decide. Check out our Stock Picker Newsletter now.
Expedia (NASDAQ:EXPE): Current price $67.25
Expedia's fourth quarter results should beat expectations, according to Cantor, while hotel trends in the United States and in Europe were relatively unchanged in the period, compared to the third quarter. Cantor keeps its price target of  $70 and its Buy on shares.

Intel Corporation (NASDAQ:INTC): Current price $21.35
All Haswell-platform ultrabooks must feature touch panels, says Intel. Digitimes quoted the Taiwan-based supply chain makers, for the story, and added that they said the strategy could help boost the penetration of touchscreen notebooks.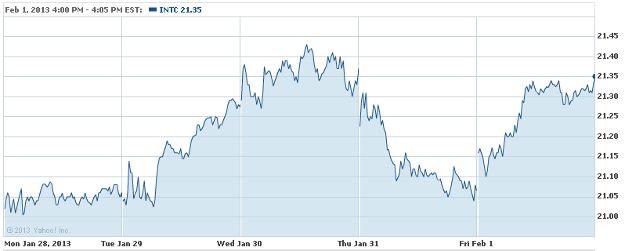 Sony Corporation (NYSE:SNE): Current price $15.13
Sony will present its next-generation home videogame console during a special PlayStation-themed event set for February 20th, showcasing the successor to its current PlayStation 3 system. Inside sources say that the new device will make its debut there, scooping Microsoft Corporation in announcing its own next-generation game machine.

Don't Miss: Is Google Willing to Play Nice in Europe?