4 Tech Stock Stories for Interface with Investors
Apple (NASDAQ:AAPL): Closing price $517.10
Apple's strategy of using patent lawsuits to get its rival's products off the market could take a hit if the current argument by the Federal Trade Commission gets traction. In a Tuesday statement to United States International Trade Commission, the FTC contended that infringement of "standard essential patents" should be punished with monetary damages, but not bans, except in specific cases. Since 2010, standard essential patents have played a dominant role in the patent wars that smartphone firms have waged worldwide when Apple tried to block a challenge by Google's Android phones. Since then, the struggle has morphed into a fight with Samsung Electronics, HTC Corp, along with others who employ Android tech.
LinkedIn Corporation (NYSE:LNKD): Closing price $113.65
On Wednesday,  LinkedIn said that it has reached 200 million members with new members joining at a pace of two a second. The firm has added in excess of 13 million members since its last announcement on November 1st. Since reaching one half of the current total 100 million members in March 2011, LinkedIn has added 13 new languages, which now makes the site accessible in 19 languages. Presently, the site sees more than 160 million unique monthly visitors and is the 23rd most visited Web property in the world.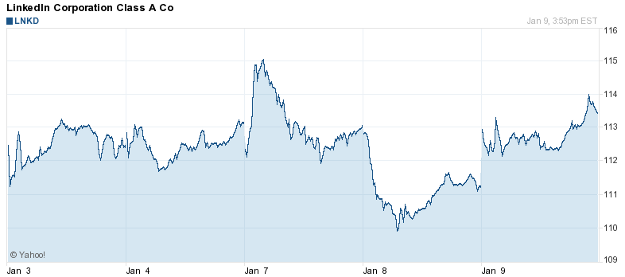 Are these stocks a buy or sell? Let us help you decide. Check out our Wall St. Cheat Sheet Stock Picker Newsletter now >>
Verizon Communications (NYSE:VZ): Closing price $43.00
Chief Executive Lowell McAdam of Verizon has told Reuters at the Consumer Electronics Show in Las Vegas that his firm is not in negotiations with Vodafone Group (NASDAQ:VOD) in regards to taking full ownership of their Verizon Wireless venture, regardless of this week's market chatter that such a deal could happen. However, Verizon owns 55 percent of the wireless venture and has long said that it would be interested in acquiring Vodafone if the 45-percent owner would divest its stake.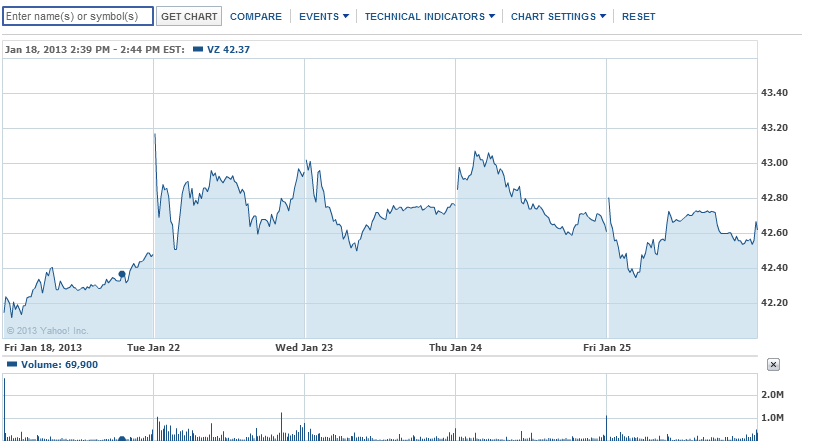 Intel Corporation (NASDAQ:INTC): Closing price $21.45
Once again, Intel has promised to increase the size of its mobile presence and compete more effectively with chips such as those from Qualcomm and Texas Instruments, but the chip majors' presentations and presence at the International Consumer Electronics Show made it "feel like Intel still is not taking the space seriously," said Steve Kovach of Business Insider.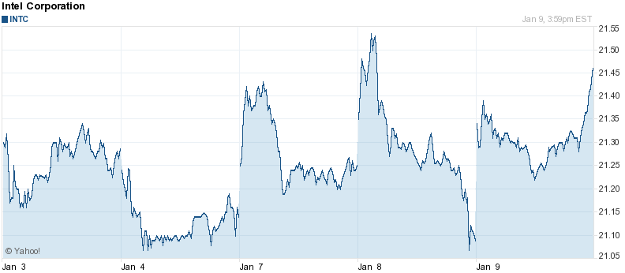 Don't Miss: How Many iPhones Did Verizon Sell?