4 Tech Stock Stories for Investor Downloading
Verizon Communications (NYSE:VZ): Current price $44.44
Bringing its board of directors members to 13 on Thursday, Verizon named President and Chief Executive Gregory D. Wasson of  Walgreen Co., effective March 1st. Wasson has been Walgreen's president and CEO since February 2009 and has also been a director for that firm.
Are these stocks a buy or sell? Let us help you decide. Check out our Stock Picker Newsletter now.

AT&T (NYSE:T): Current price $35.26
AT&T intends to sell bonds in a benchmark offering which could include its first floating-rate notes in nearly five years. The carrier might issue three-year notes with a coupon connected to the Libor, similar-maturity fixed-rate debt or a combination of the two, according to a knowledgeable source. If AT&T does issue so-called floaters, it would mark its first such move since March 2008 when it offered $2 billion worth of two-year securities that paid 45 basis points more than Libor.

Google (NASDAQ:GOOG): Current price $770.04
It appears that a slew of advertisers are irked at Google's modifications to the operation of Adwords on mobile devices, as a number of them say that the changes were at the best unhelpful along with being a way to hike prices. Prior to this, advertisers purchased separate search word campaigns on mobile, tablet and desktop devices and paid different rates for each type of device, depending on the demand. The problem is that there are not so many bidders for mobile users and cost-per-click prices on mobile were thus lower. But now, Gooogle is simplifying its Adwords process by requiring advertisers to buy search words across desktop, mobile and tablet devices at one time, thus giving them less of a choice as to where their ads appear.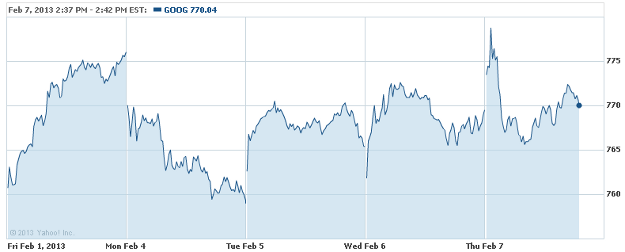 Netflix (NASDAQ:NFLX): Current price $181.70
Just after Netflix debuted its original of House of Cards on Friday, observers wonder how it did, says CNBC. Many ask if it attracted new subscribers or pursuaded current subscribers to watch it all weekend. No word from Netflix, but the independent firm Sandvine, which monitors Internet data usage, got some results which indicated there was no spike in viewing.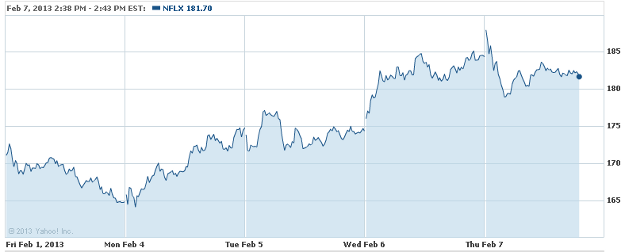 Don't Miss: Can Google and FreedomPop Free Americans From Wireless Carriers and ISPs?