4 Tech Stock Stories for Investors not to Miss
Fusion-io (NYSE:FIO): Current price $21.27
The firm is open-sourcing its ioScale hardware design and intends to donate it to Facebook's Open Compute Project, however, users who employ the ioScale design kit will have to use Fusion-io's own-brand controller tech. At the Open Compute Summit which ran over the weekend in Santa Clara, Chief Executive and C0-founder David Flynn gave a presentation entitled The all-flash data centre: Hyperscale acceleration, during which he announced the open-sourcing of the ioScale product's electro-mechanical hardware design though its donation to the OCP. Flynn commented that, "We're open-sourcing the design. This will allow OCP members to take that design and customize it to their servers. It will facilitate third-party manufacturing [and] it uses our controller technology."

Are these stocks a buy or sell? Let us help you decide. Check out our Stock Picker Newsletter now.
France Telecom-Orange (NYSE:FTE): Current price $11.72
In a Saturday interview with BFM Business TV, the company's Chief Executive Stephane Richard said that his firm is being paid to deliver traffic for Google and claims that the dominance of Orange in Africa has provided leverage for it to negotiate the best financial arrangement with the Chocolate Factory. Richard did not divulge an exact figure on the payments made to France Telecom-Orange beyond conceding that its not "hundreds of millions".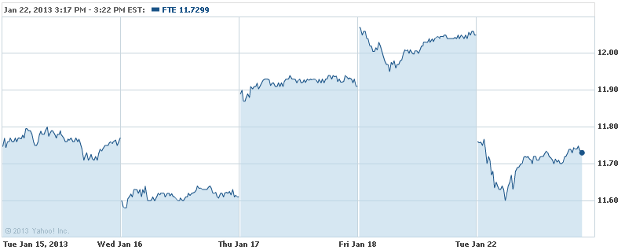 Intel Corporation (NASDAQ:INTC): Current price $21.10
Like it or not, the firm's decision to shell out some $13 billion (as opposed to a mere $11 billion) this new year might have been mandatory so as to remain ahead of its competitors for time to come. Wall Street is apparently where the move is not liked as shares slid almost 7 percent Friday, which was the day after Intel executives made their capital expenditures increase known. Analysts weighed in, noting that it seemed illogical for the firm to expand capacity in the face of a waning personal computer market which could cause even more idle capacity if PC sales keep falling. However, others think that Intel really must maintain its tech edge, an expensive but necessary program that might even pay off in the long run with market share gains.

EMC Corporation (NYSE:EMC): Current price $24.22
EMC Corporation, which supplies data storage products and services, has updated its EMC VMAX family, making it efficient for mission-critical applications in VMware virtualized environments for enterprises of all sizes.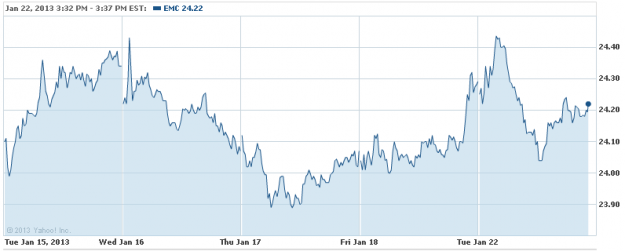 Don't Miss: AMD Sets Its Sights Beyond PCs.