4 Tech Stock Stories for Investors to Download
Amazon.com (NASDAQ:AMZN): Current price $273.19
The senior analyst at ABI Research Aapo Markkanen has calculated that for Amazon to gain a 20-percent profit margin, it needs $10 in content sales per month from each Kindle Fire, from which would come $3 after its 30-percent cut, adding that this incremental $3 revenue would be required over the life of the hardware in order to maintain that margin. Further, Markkanen says that the combination of falling hardware prices over time and an increase in content sales could help the product line even more.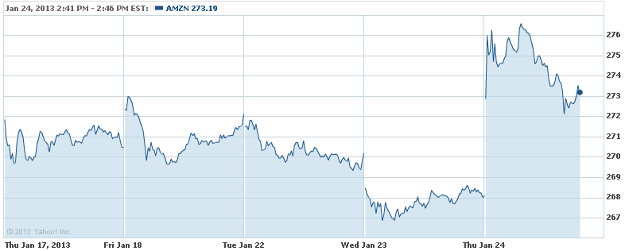 Are these stocks a buy or sell? Let us help you decide. Check out our Stock Picker Newsletter now.
Nokia Corporation (NYSE:NOK): Current price $4.22
Nokia is said by The Verge to be planning to introduce a 'proper' Pureview Windows Phone 8 handset in 2013, codenamed the Nokia EOS. The site also has learned that the firm is developing a Windows Phone 8 handset featuring a camera sensor similar to that of the 41MP giant found on the Pureview 808 smartphone. However, it remains unclear whether the planned Lumia phone will have as impressive a sensor and whether it will be quite as large as the massive bulge on the rear of that handset.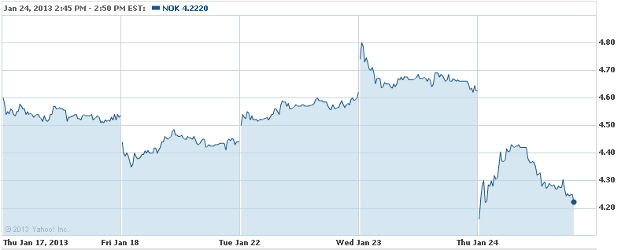 Apple (NASDAQ:AAPL): Current price $452.94
There was a large disappointment and worry over Apple's financial results for its fiscal first quarter. Profits edged consensus estimates, but revenues were smaller than anticipated and the  March quarter guidance emerged far under Street expectations. Among the specifics were a pessimism that iPhone sales are slowing. Apple seems to have convinced analysts that this time, they should take its guidance more seriously, exactly at the wrong quarter in which to do so, and also fears that the erosions of margins will continue.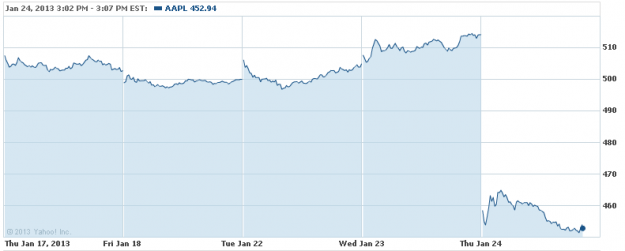 Tyler Technologies (NYSE:TYL): Closing price $53.19
Tyler Technologies has reached accords with two municipalities in Maine to supply the Tyler Munis enterprise resource planning solution. The town of Mount Desert inked a 10-year arrangement to access Munis via Tyler's software as a service platform, and the city of Ellsworth selected a traditional, on-premise installation of Munis.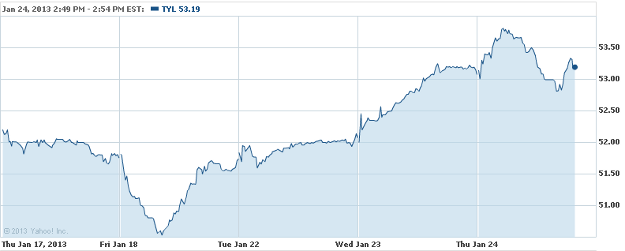 Don't Miss: Can Amazon Bank On This New Technology?